7 Facts from our Dash Genomics Review
Location: San Francisco, California
Service: A Personalized Alzheimer's Disease Risk test
Cost: $149
Reports: Health risk reports, drug interaction reports, and ancestry reports
How it works: Customers upload raw DNA data from 23andMe or AncestryDNA and receive their report based on the algorithm used by Dash Genomics
Raw data download: No
Alternative Products: Nebula Genomics offers 30X Whole Genome Sequencing that decodes 100% of your DNA and gives reports on diet and much more!
This review is written with the intent to be as unbiased as possible. However, it represents the opinion of an individual reviewer and is therefore subjective. Furthermore, at Nebula Genomics we seek to educate the public about the benefits of Whole Genome Sequencing. Information about our Whole Genome Sequencing DNA test is therefore incorporated into the review.
April 18, 2023
Pros and Cons
Pros
Uses more loci to assess risk than traditional tests
Easy to use
Research-backed
Cons
Limited real world validation
Privacy concerns
Website not updated
Introduction
Dementia affects around 50 million people worldwide, with nearly 10 million new cases yearly. Alzheimer's disease is the most common form of dementia, accounting for 60-80% of cases. The condition is often associated with memory loss, confusion, and declining other cognitive functions. Several factors, including genetics, lifestyle, and environment, can influence Alzheimer's disease.
Dash genomics partner, HealthLytix, a precision health company based in San Diego, has developed a new model based on cutting-edge research from the University of California San Diego and the University of California San Francisco that estimates the personalized risk of developing Alzheimer's disease as a function of age based on genetic information. The company has worked with HealthLytix to bring this analysis to anyone with their genetic information provided by either 23andMe or AncestryDNA.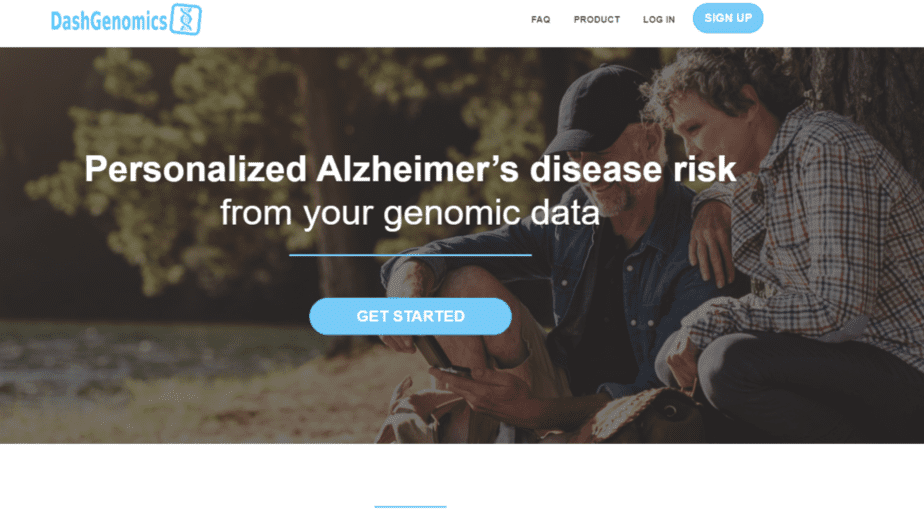 Although symptoms of Alzheimer's disease usually occur later in life, experts believe the brain begins changing up to 10-20 years before onset is noticeable. Therefore, someone with high risk may start showing symptoms as much as 15 years or more compared to someone at low risk based on research from UC San Diego and UC San Francisco.
Logistics
Dash Genomics believes understanding this new research and the similarities of your genetic profile to research cohorts can improve your discovery of genetic risks for Alzheimer's Disease.
It's important to remember that Dash Genomics is not a clinical test. You should not use this information when making any medical decisions. If you have concerns about your risk for Alzheimer's disease you should consult a medical professional.
Although these associations have not yet been clinically validated or formally approved by the medical community, some early research studies suggest lifestyle changes can improve outcomes for those with Alzheimer's, including physical exercise, diet, social connections, and intellectual activity.
Although customers can still upload their DNA data, pay the fee, and receive the algorithm's results, Dash Genomics has not made additional updates since it launched its website in 2018. Additionally, there are sections of the website missing, such as information in the sample report and the privacy section.
Review of the Science Behind Dash Genomics
To estimate Alzheimer's risk, Dash Genomics analyzes DNA data using the proprietary algorithm developed by HealthLytix. This model is based on research that analyzed genomic data from more than 70,000 Alzheimer's patients and healthy elderly controls, discovering 31 SNPs and 2 APOE variants that may contribute to a polygenic risk score.
The company believes this method of using many genes that act together over a lifetime to predict risk is more accurate than the commonly used measure of two loci in a single gene, APOE. Since then, it has expanded the algorithm to look at up to approximately 600,000 loci commonly found in genetic testing genotyping files.
HealthLytix's proprietary algorithm for this analysis was developed based on UC San Diego and UC San Francisco research to assess the age-dependent risk of developing Alzheimer's disease. Since age is the greatest risk factor, an individual's risk will be predicted to increase over time. These results are based on the similarities and differences between an individual's genetic profile and the patient research cohort analyzed.
Review of Dash Genomics Service
The Dash Genomics website currently offers the Personalized Alzheimer's Disease Risk test. It claims to be the only Alzheimer's disease risk algorithm that goes beyond the APOE gene.
The analysis looks at up to 600,000 genetic loci that may contribute to genetic risk. It also plots risk as a function of age and estimates how your risk compares to the general population.
Review of Taking a Dash Genomics Test
To use the Dash Genomics algorithm, customers must first purchase a DNA kit from 23andMe or AncestryDNA to obtain their raw DNA data.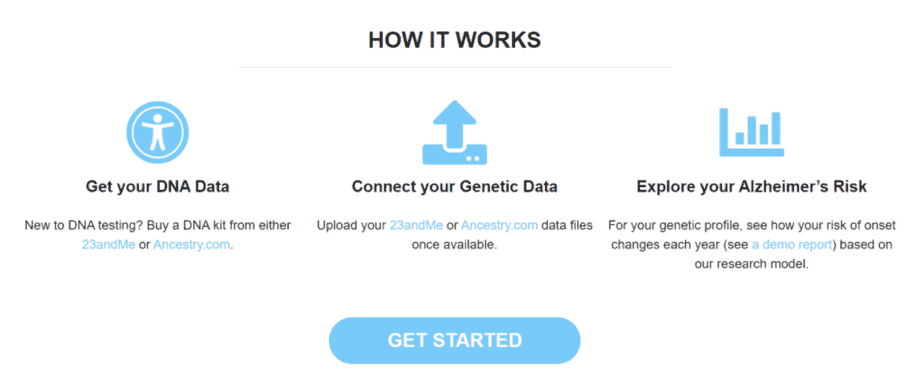 Next, customers upload the DNA data files to Dash Genomics' secure online platform. Once the data is processed, Dash Genomics will analyze the DNA using its research model and calculate the individual's risk of developing Alzheimer's disease. Its model considers genetic factors contributing to Alzheimer's risk and estimates how your risk changes each year.
Review of Dash Genomics Test Cost
The cost of the analysis is $149.
Review of a Dash Genomics Report
The company based the Dash Genomics report on a model of late-onset Alzheimers, defined as disease that begins at age 65 or later. The report covers information starting at age 60, when decline can begin. Additionally, risk of onset will change each year whether or not symptoms are present.
The Dash Genomics report contains five main sections: Analysis summary, cumulative risk, instantaneous risk, 5-year risk, and polygenic hazard score percentile.
Sections of the report
The analysis summary is an overview of the other four sections, providing the raw data and percentages the analysis provides.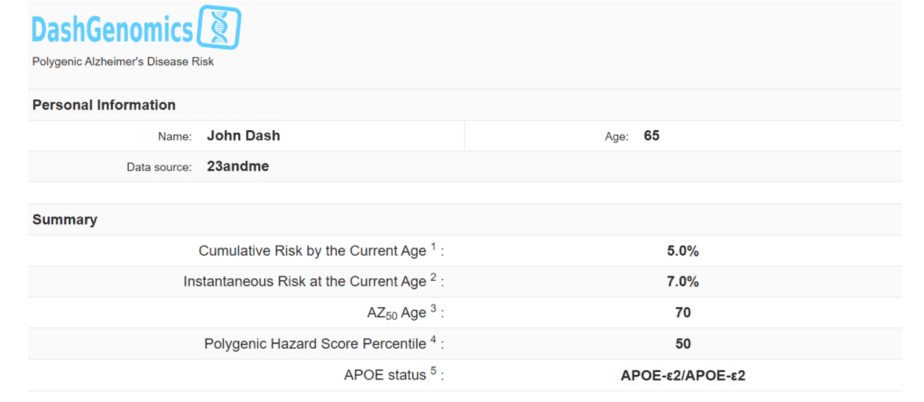 The next section, the cumulative risk score, shows the probabilities of developing Alzheimer's at a certain age. This percentage is based on comparing the genetic profile of the submitted sample with those in the research cohort. A certain percentage of participants of that age with a genetic profile similar to the one submitted will have developed the condition, which is the value defined as the cumulative risk score.
The instantaneous risk section estimates the likelihood of an individual who is not currently diagnosed with Alzheimer's of developing it within a year of a given age. Once again, the predisposition changes with age.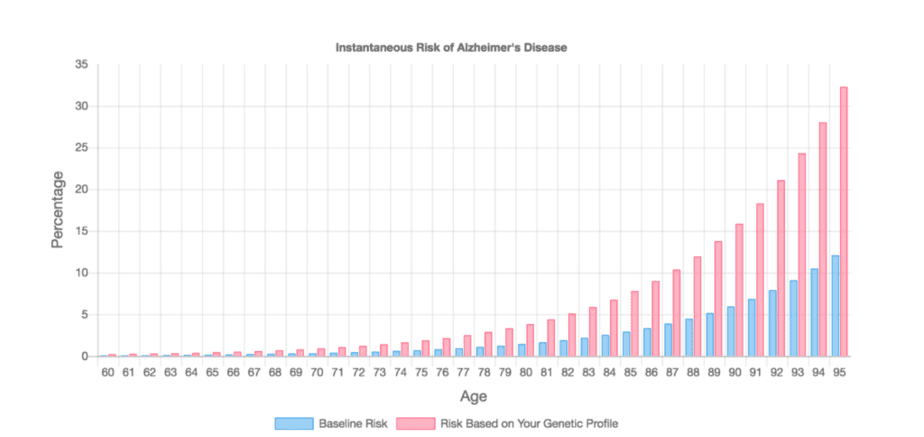 The following section is the 5-year risk. This graph is only available for people older than 60. It predicts the likelihood of developing Alzheimer's in the next five years based on current age and genetic profile.
Finally, the last section is the polygenic hazard score (PHS) percentile. The company bases this score for Alzheimer's risk on multiple genetic loci and their relative contributions to the predisposition.
The score ranges from 1 to 100 and is equivalent to the percentage of people in the general population who have the same or lower risk than you, based on your age, on developing late-onset Alzheimer's disease. A higher PHS percentile indicates a higher risk than a low PHS percentile.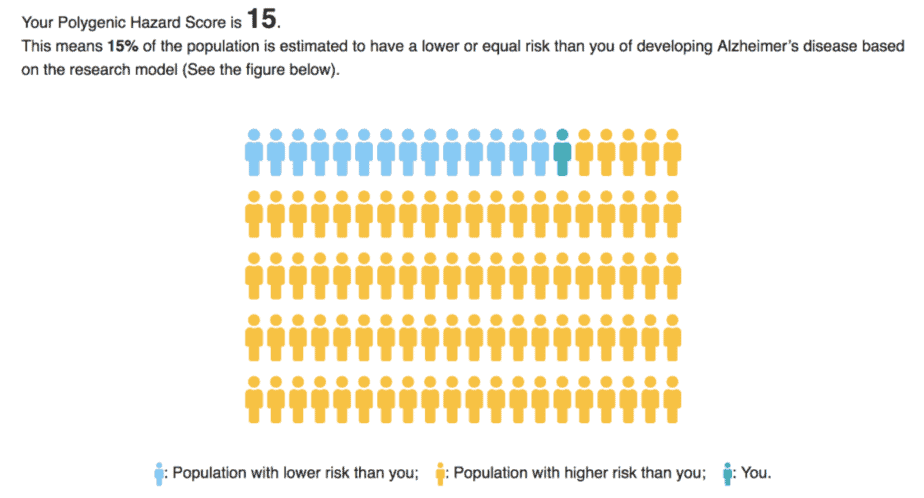 Review of Dash Genomics Privacy Policy
Although there is a section for it, there is no privacy information provided on the website. In the FAQ section, the company notes that all information customers enter on the site are encrypted with industry standard technology for secure browsing.
Customers can delete their account by contacting the company directly via email.
Dash Genomics in the News
Dash Genomics's science was featured in the popular magazine Wired in 2017, a year before the launch of its commercial DNA analysis. The founders talked about the benefits of this multi-variant analysis, especially compared to previous tests that only tested APOE. Some critical aspects of the article noted that this approach needed more real-word validation. Additionally, it recommended studies that follow participants since before they develop Alzheimer's to assess predictive power rather than a retrospective study on individuals who already developed the condition.
Other Dash Genomics Reviews
Dash Genomics does not have publicly available reviews on its service.
Nebula Genomics
Dash Genomics is a DNA data analysis company, offering additional information related to Alzheimer's disease risk. A unique aspect of this service is that it analyzes significantly more genetic interactions than traditional tests, which only take into account the APOE gene. The algorithm allows the calculation of a polygenic risk score, that compares an individual's risk to the general population based on a large research cohort.
While this information can be useful for individuals interested in a single condition (Alzheimer's disease) you can get this type of information for an incredible amount of conditions and health aspects with Nebula Genomics whole genome sequencing.
This next-generation sequencing decodes all 20,000 genes in the human genome. Results also come with ancestry reporting and genome exploration tools.
Regularly updated reports on the latest genetic discoveries allow you to explore your polygenic score for hundreds of conditions. This includes mental health issues such as various forms of dementia.
For only $299 or less, customers will get access to their entire genome, allowing them to continue to ask more questions as more research is conducted. This is just a bit more than Dash Genomics and gives you significantly more information on your entire genome.
| | | |
| --- | --- | --- |
| | Dash Genomics | Nebula Genomics |
| Testing method | Results from 23andMe or AncestryDNA | Saliva test for whole genome sequencing |
| DNA upload | Yes | Yes |
| Reports | Various risk assessments for Alzheimer's disease | An extended genetic report that is updated regularly |
| Counseling | No | No, but data is of the highest quality and can be used by physicians and genetic counselors |
| Cost | $149 | $0, $99, $299 |
Other companies
Did you like our Dash Genomics review? You can read more reviews on our blog and check out our complete guide to the best DNA test kit and other home tests.
If you want more tests like this you can check out our reviews on other DNA upload sites:
Health:
Ancestry: