7 Facts from our Silverberry Genomix Review
Location: San Francisco, California, USA
Products: DNA testing kits and individual wellness reports
Cost: DNA testing kits and report packages are $89-$188. Individual reports cost between $5-$99.
Reports: 14 unique reports and a comprehensive wellness report
How it works: Upload data or purchase a DNA test
Counseling available: No
Alternative Products: Nebula Genomics offers 30X Whole Genome Sequencing that decodes 100% of your DNA and offers reports on diet and much more!
This review is written with the intent to be as unbiased as possible. However, it represents the opinion of an individual reviewer and is therefore subjective. Furthermore, at Nebula Genomics we seek to educate the public about the benefits of Whole Genome Sequencing. Information about our Whole Genome Sequencing DNA test is therefore incorporated into the review.
June 9, 2022
Pros and Cons
Pros
Many test options for health and wellness
Personalized reports based on multiple genes for each trait
Upload option for results from other companies
User friendly website and sample reports with free account
Cons
Only tests for select predispositions
Not designed for health testing
Individual reports could get expensive
Silverberry Genomix Introduction
Silverberry Genomix is a DNA lifestyle company that uses personalized genetic assessments and artificial intelligence to maximize daily health and fitness plans to help people make positive lifestyle changes. The company offers DNA testing services, assessments, and recommendations to suit individual needs.
The service covers areas of DNA testing, COVID-19, athletic training, addictive potential, weight loss, skincare, allergy, and personality development. Overall, it can analyze over 180 genetic predispositions.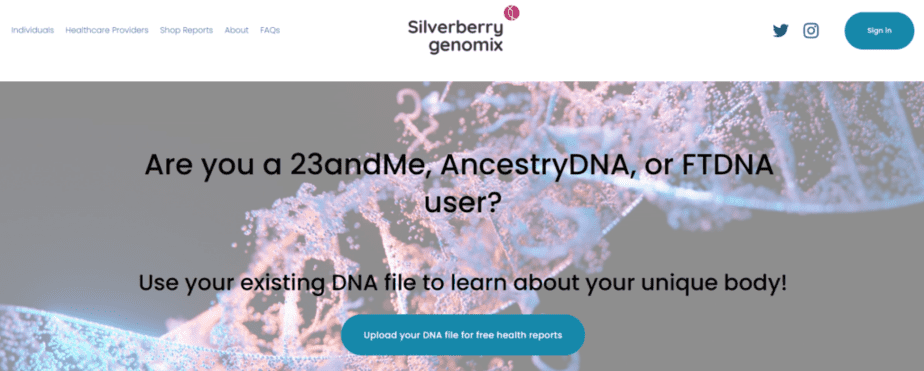 Silverberry Genomix has helped empower thousands with information to help them make decisions about their health and wellness. The company's assessment and recommendation process starts with a DNA test. Users can either upload existing DNA data or purchase a testing kit from the company.
Most testing kits come with a package of reports. If you are uploading DNA data or if you want something not included with the purchased test kit, you can purchase reports individually.
Silverberry Genomix was founded in 2017 by Shayan Mashatian, a technology industry thinker and serial entrepreneur. The company is based in San Francisco, California.
The Science Behind Silverberry Genomix
SilverBerry Genomix is a genetic testing company that uses machine learning methods to reveal genetic predispositions in areas like nutrition, exercise, allergy, and skin.
Silverberry uses a computational genomics engine to assess genetic variations that may impact your wellness traits based on thousands of peer-reviewed genetic studies of various populations.
Unlike most companies that use single genetic variations to determine genetic predisposition, Silverberry Genomix uses multiple gene variants to assess wellness traits.
This means that beyond reporting genetic predispositions, the company aims to provide information into questions like "What is the best diet for me?" and "What is the best sunscreen for my skin?"
Taking a Silverberry Genomix Test
The steps to taking a Silverberry test are similar to most other DNA testing companies.
Sign up and get your account through the website. Then, you can purchase the test product that you want. After receiving the package, provide a saliva sample on the required collector and send it back to the lab. DNA is extracted from your saliva at the lab and the company will analyze your wellness predispositions in your DNA.
You then receive the actionable insight reports included with your purchase.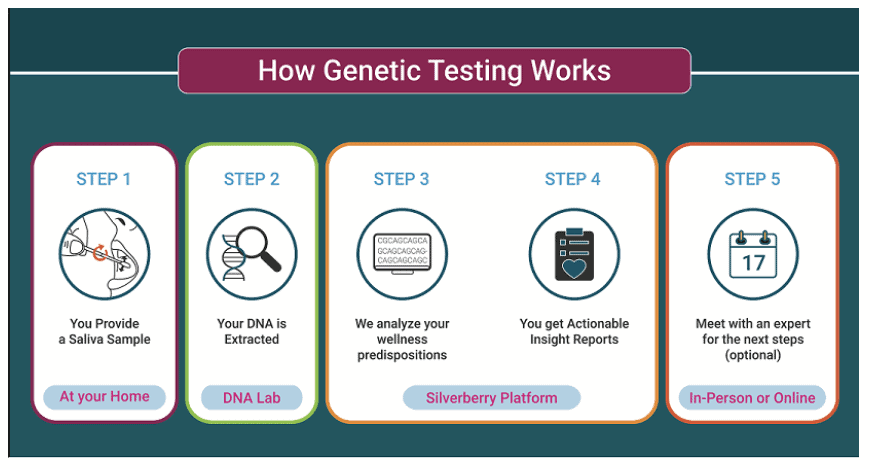 Review of SilverBerry Genomix Products
Silverberry Genomix offers 2 DNA testing kit packages. The first one, the Silverberry DNA Test Kit, includes 17 Vitamin and Basic Wellness Reports. On the other hand, the Premium Silverberry DNA Test Kit comes with the Comprehensive Wellness Reports, which includes about 140 reports.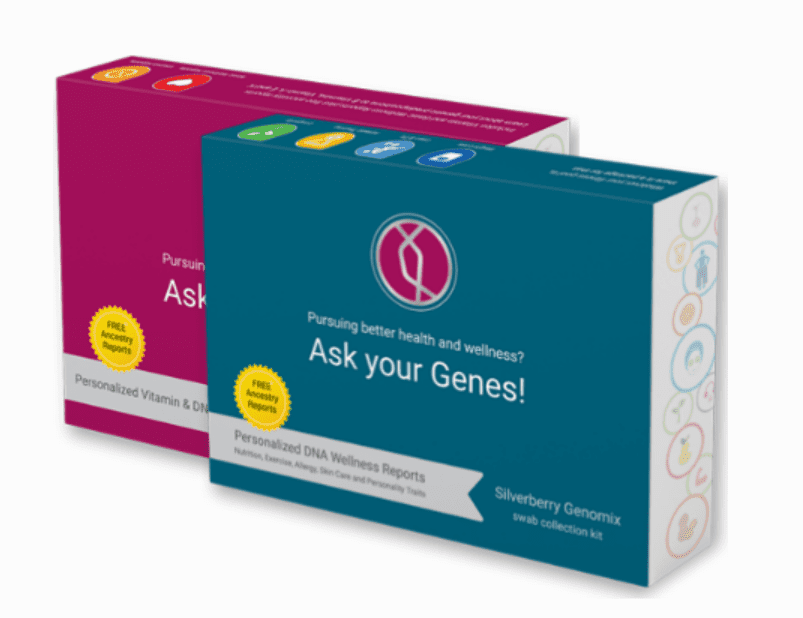 The company also accepts uploads of DNA test results from 23andMe, AncestryDNA, FamilyTreeDNA, GenebyGene, Vitagene, and MyHeritage. After uploading, you can purchase the desired DNA reports. Each upload comes with the Basic Wellness package for free.
Review of Silverberry Genomix Reports
Reports are generated in 14 different categories:
Vitamin
Nutrition
Sports and Exercise
Personality
Allergy
Skin care
Weight loss
Lean & Fit
Longevity
Athletic training
Exercise injury
Hair
Addiction potential
COVID impact risk assessment
The comprehensive option includes 140 traits (Hair, Addiction Potential, and COVID-19 Impact risk packages are not included).
Each report includes health and wellness traits groups. There is also a summary, your assessment, recommendations, and some additional information and resources. We break down the nutrition report as an example below.
Sample Report: Nutrition
The areas of the Nutrition option includes 49 reports organized under 6 groups: Enzymes and Antioxidants, Minerals, Sugar, Vitamins, Fat, and Nutritional Habits.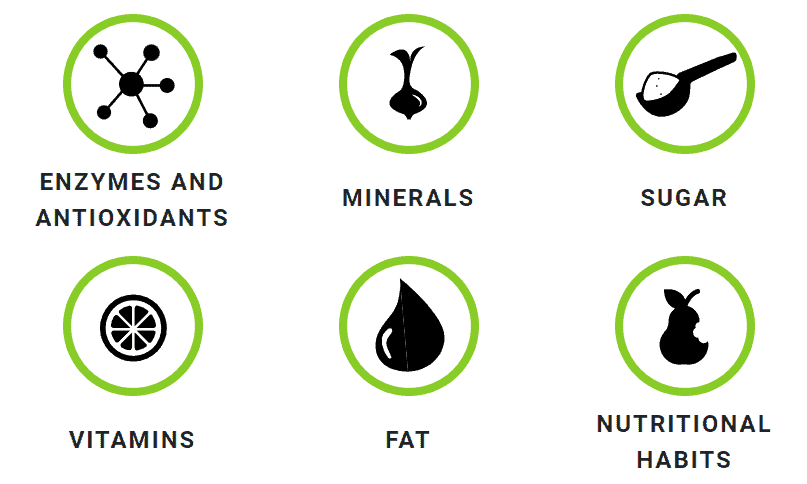 Some examples of how the 49 reports are broken up are:
Enzymes and Antioxidants (4 reports)
Caffeine Metabolism Impairment
Coenzyme Q10 Deficiency
Gluten Sensitivity
Lactose Intolerance
Minerals (9 reports)
Calcium Deficiency
Copper Deficiency
Iron Deficiency
Iron Overload
Magnesium Deficiency
Phosphorus Deficiency
Selenium Deficiency
Sensitivity to Salt
Zinc Deficiency
Nutritional habits (7 reports)
General Food Sensitivities
Low Protein Intake Risk
Low Resting Metabolic Rate
Low Vegetable Intake
Satiety Impairment
Snacking
Sweet Snack Preference
For each trait, users receive a score and explanation. The scores range from advantaged, slightly advantaged, normal, slightly elevated, and elevated.
For example, the sample Vitamin D deficiency report shown below indicates that the individual appears to have an elevated genetic risk of developing vitamin D deficiency compared to the general population.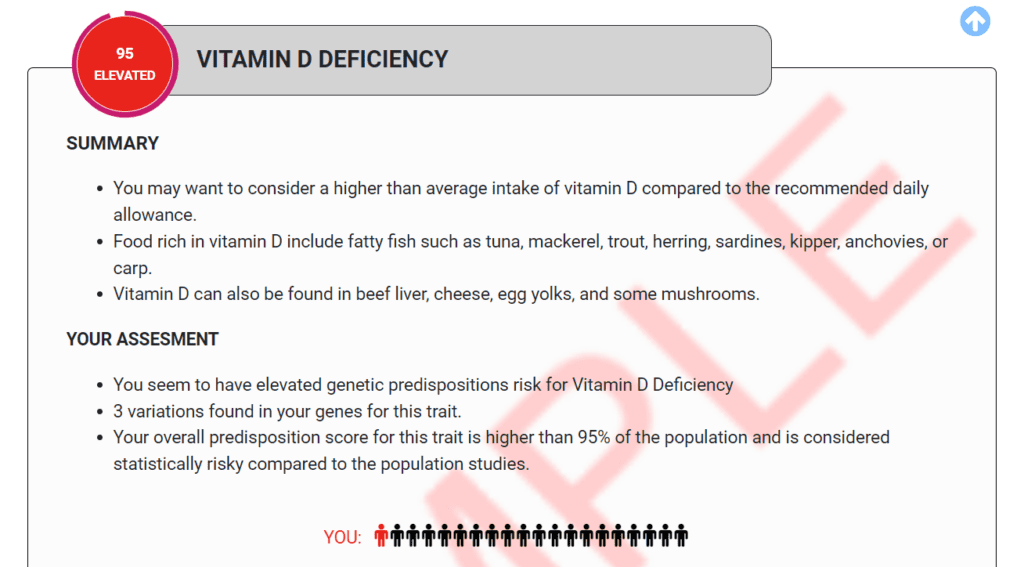 The summary at the top contains the actionable insights based on the results. The assessment was based on analysis of 3 genetic variants. The number 95 indicates that the user's predisposition score is higher than 95% of the population.
Following the summary and assessment, users will find information on the trait, more detailed information on what to do based on the results, and the genetic variations used to make this determination.
Review of Silverberry Genomix Cost
Users who upload their DNA data from a different testing company can get the free basic wellness report for free.
The purchase of a DNA testing kit with the basic wellness report costs $89 while the same kit with a comprehensive report is $188. The comprehensive report does not include Hair, Addiction Potential, or COVID-19 Impact risk. Therefore, individuals interested in these 3 specific tests must purchase them for a separate price no matter the test kit ordered.

Individual reports cost between $5-$99. The cheapest tests are for vitamins and exercise injury, which cost $5 and $10, respectively. COVID impact risk is $30. Nutrition, Sports and Exercise, Personality, Allergy, Skin care, and Hair each cost $40. Addiction potential is $50. Weight loss, Lean & Fit, and Longevity are $60. Finally, Athletic training is $70.
A comprehensive wellness report by itself with purchase of a DNA kit is $99.
Review of Silverberry Genomix Privacy
Silverberry Genomix has access to customer information during the registration process when requesting their service, login information, location information, and device information. They can also collect customers' information during a communication process or when you visit the website.
All the information entrusted with this company is used solely to provide top service to customers. Silverberry Genomix cannot rent, sell, disclose, or share customers' information with unauthorized parties.
Other Silverberry Genomix Reviews
Silverberry Genomix previously offered a DNA test kit that included ancestry plus 22 vitamin and wellness genetic reports available on Amazon.com. The latest review is from 2020. Overall, the product received a rating of 2.6 out of 5 stars. However, this is based on the opinion of only 10 reviews.
Customers who bought the extra reports found the product easy and helpful in understanding their traits. However, many of the negative reviews didn't think that the product alone provided enough information.
Nebula Genomics
Silverberry Genomix is a genetic testing company with a fairly large offering for users interested in genetic predispositions. The use of multiple genes to determine a numerical score for each trait is advantageous for those who are looking for a holistic assessment. However, the company tests only the traits available in their reports and not every gene in the genome. This comprehensive test would have to be performed using whole-genome sequencing.
Nebula Genomics is a highly rated genetic testing company that offers 30x Whole-Genome Sequencing. This test sequences 100% of the human DNA to get total information of every biological inclination. Using this information, customers can get insights into any part of their genetic predisposition, including diet, fitness, skin, hair, and much more.
Whole-genome sequencing is very accurate, and it also offers users additional services that include ancestry reporting and genome exploration tools. Regularly updated reports are included so that users can explore their genome with the latest genetic research and new landmark developments.
The best part is that you can get a full sequencing of your entire genome at $299 or less. Below is a short comparison between Nebula Genomics and Silverberry Genomix.
Silverberry Genomix vs. Nebula Genomics
| | | |
| --- | --- | --- |
| | Silverberry Genomix | Nebula Genomics |
| Testing method | Saliva sample | Saliva sample |
| Genes sequenced | Over 180 genetic predispositions | Sequences of all 20,000 genes and regulatory regions to answer any predisposition question |
| Reports | 15 personalized reports | An extended genetic report that is updated regularly |
| Ancestry reporting | Yes | Performs deep ancestry reporting with the complete Y chromosome and mtDNA sequencing |
| Counseling | No | No, but data is of the highest quality and can be used by physicians and genetic counselors |
| Upload option | Yes | Yes |
| Cost | $89 – $188 for DNA testing plus report packages; $5-$99 for individual reports | $0, $99, $299 |
Did you like our Silverberry Genomix review? You can read more reviews on our blog and check out our complete guide to the best DNA test kit and other home tests.
Other genetic analyzes sites that accept DNA uploads from other companies include:
Ancestry:
Health: