7 Facts from our StrateGene Review
Location: Bellingham, Washington, United States
Services: The StrateGene DNA kit has been discontinued. It still offers genetic analysis from DNA upload
Cost: $95
Reports: The relationship between genetic variations and your overall health. They aren't intended to treat or cure diseases but rather provide you with information to improve your health
How to get started: Visit the website where you can place an order to get the StrateGene upload
Security: Your reports are security protected; they are only accessible to you
Complimentary Products: Nebula Genomics 30X Whole Genome Sequencing (WGS)
This review is written with the intent to be as unbiased as possible. However, it represents the opinion of an individual reviewer and is therefore subjective. Furthermore, at Nebula Genomics we seek to educate the public about the benefits of Whole Genome Sequencing. Information about our Whole Genome Sequencing DNA test is therefore incorporated into the review.
June 21, 2022
Pros and Cons
Pros
It allows you to visualize, not just know, how your genes affect your health
Results are available for download within minutes
Learn ways to support and improve your health towards achieving health goals
Discover how different genetic variations and environmental factors can affect your health
Cons
The report is complex, often requiring a rigorous process to decode all it entails
No in-house DNA testing service. Therefore, it requires you to purchase and upload your data from a different health testing company
StrateGene Introduction
The name StrateGene tells the story of this company – strategic genetic analysis. StrateGene is a health and wellness company that offers genetic pathway analysis. Overall, its report provides a detailed analysis of your DNA to help guide you to optimal genetic health.
StrateGene aims to use genetic reports to provide personalized precision medicine to its customers. The testing results provide essential information about your genes and variations that may cause susceptibilities to specific health conditions. It also gives insights into the DNA and how changes or variations, known as single nucleotide polymorphism (SNP), may affect overall health.
As noted on the website, this product and its statements have not been evaluated by the Food and Drug Administration (FDA) and is not intended to diagnose, treat, cure, or prevent disease.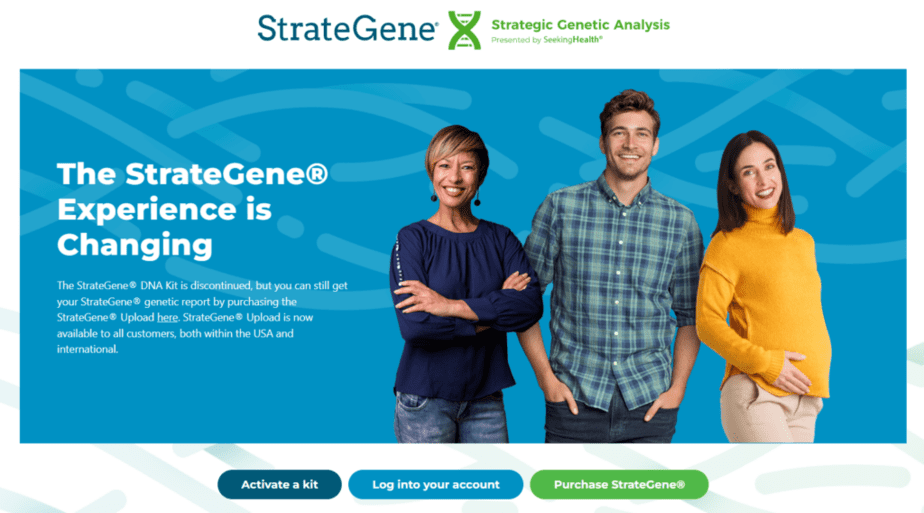 StrateGene genetic reports give an in-depth understanding of how the body works and how best to provide support. However, it isn't an easy and quick fix to health issues. The human body is a biological workhouse that doesn't respond to quick solutions. Those quick fixes are often inefficient and may even be detrimental to health. If you want to know how your body works so that you can make lasting changes, the StrateGene genetic report is a step in the right direction.
A Brief History
Since 23andMe launched, there have been lots of other health and wellness companies targeted at genetic testing. In a short while, Dr. Lynch noticed that these companies were poorly run, ineffective, and provided users with erroneous and unscientific reports.
Dr. Lynch and his research team established StrateGene in 2015 in an effort to provide a different type of genetic reports. Besides the study of natural genetic variations, environmental factors like diet and lifestyle play crucial roles in an individual's genome and should be incorporated in the results.
Since the company's establishment, CEO Dr. Lynch, with a team of experienced researchers, has made significant studies that have led to the discovery of various genetic variants in their hundreds which are often unreported by other biotech, DNA, and genetic-based health companies. StrateGene remains focused on helping users understand their genetic capabilities.
Review of StrateGene Services
StrataGene initially provided DNA testing kits. However, according to its website, StrateGene genetic testing has been discontinued. The company continues to provide its core reports via upload of raw genetic data from other testing services. Customers can upload a data file from anywhere in the world. The StrateGene strategic genetic analysis is now owned by Seeking Health.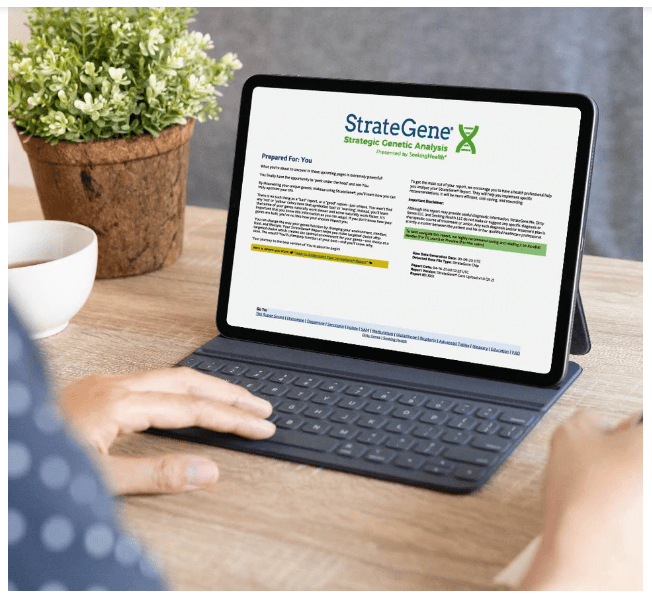 Raw data upload must be from either 23andMe or AncestryDNA (version 2 or higher).
The StrateGene report is a single digital downloadable PDF. It provides you with nine health areas of analysis, including genes, SNPs, and recommendations on diet, lifestyle, and supplements. Additionally, it visually demonstrates how these results are related to your health and provides recommendations for supporting your body.
You also get access to the StrateGene educational portal, which contains many essential resources, such as case study recordings, videos, dirty genes courses, ABC's of clean genes, which genes are dirty by Dr. Ben Lynch, etc. This digital library is designed to aid you in interpreting and understanding your results.
Review of Taking a StrateGene Test
Customers can upload their raw data from 23andMe or AncestryDNA using the link provided via email after purchase. The report is generated and available for download within minutes.
It's important to know that neither company provides all the gene variants needed to completely fill the report. Additionally, different versions of 23andMe will be more or less complete. Therefore, there may be blanks in the results where data was unavailable.
During purchase, customers can create an account which gives them access to the Education Portal.
Review of a StrateGene Report
The StrateGene report is a personal genetic reporting tool with over 100 pages of information. The team developed the StrateGene report to provide results that show whether you have genetic predispositions to specific health issues and ways to help optimize your health.
StrateGene Health Pathways
StrateGene analyzes 150 well-researched variants known to have a clinical impact on many populations. These SNPs were chosen based on the extent of information known about them to help healthcare professionals develop treatment plans faster.
The results are organized into nine distinct health areas it calls "pathways". These Pathways are visual representations of biochemical processes in the body. They are:
Histamine pathway
Serotonin pathway
Dirty Genes Super Seven pathway – it shows their relationship
Biopterin pathway
Glutathione pathway
Folate pathway
S-adenosyl-methionine (SAMe) pathway
Methylation Cycle pathway – it combines the Folate and SAM pathways.
Dopamine pathway
Knowing about these will help you understand how your body works and reacts to different substances, including foods and drugs. That said, the report is very comprehensive. Every biochemical pathway the genetic reports contain the following:
Pathway diagrams – this allows you to form a mental picture of how the different enzymes interact and how each interaction affects another,
Your unique genetic variant – everyone is unique at the genetic level with a series of variations from the gene, SNP, RSID number, allele and enzyme impacts,
Epigenetic influencing factors – you get insight on the factors that affect enzyme actions in your body; are they being slowed or sped up, you also discover what roles it plays in overall gene expression,
Gene explanations – you find out how each gene acts and how it affects the overall body health, etc.
Sample Report
StrateGene provides a sample report for the Folate Pathway on its website. The company notes that it does not designate its results as "good" or "bad" but instead classifies each variant as unique. Thus, you receive answers as to whether some genes are "slower" or "faster". As most of the report is written in technical language, it recommends speaking with a healthcare professional to better understand the report and its implications.
The report covers 9 Biochemical Pathways including Genes, Functional SNPs, Recommendations for Lifestyle, Food, Environment, and Supplements.
The first section shows the biochemical pathway.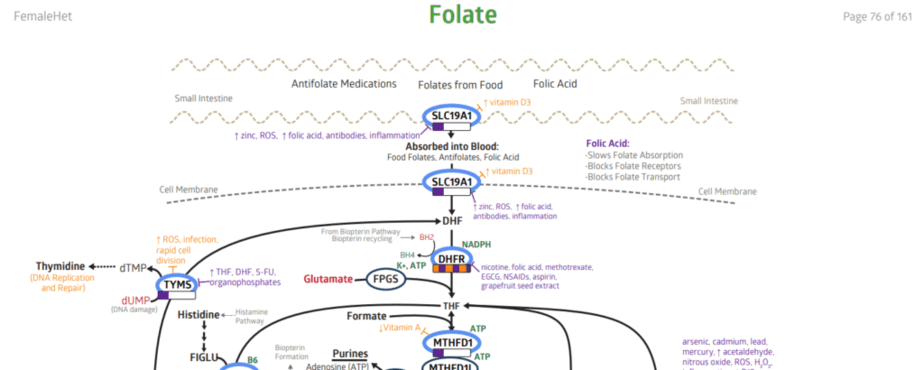 It then goes into a detailed description of each gene. Recommendations are divided into things that should be avoided based on your genetic variants (factors that contribute to genes that are dirty) and things that you should include in your lifestyle (Cleans). These recommendations are less technical than other parts of the report, but may still require consultation to point you in the right direction.
A sidebar shows the notable variants discovered during the analysis that influenced the results and recommendations. Once again, these results are written in technical language.

Finally, the last part of each pathway analysis contains a table with each variant that was decoded and a labeling system that describes the overall impact of the variant on the pathway being studied. For example, the example below shows that the discovered variant in the MTHFD1 gene causes the folate system to be slower than average.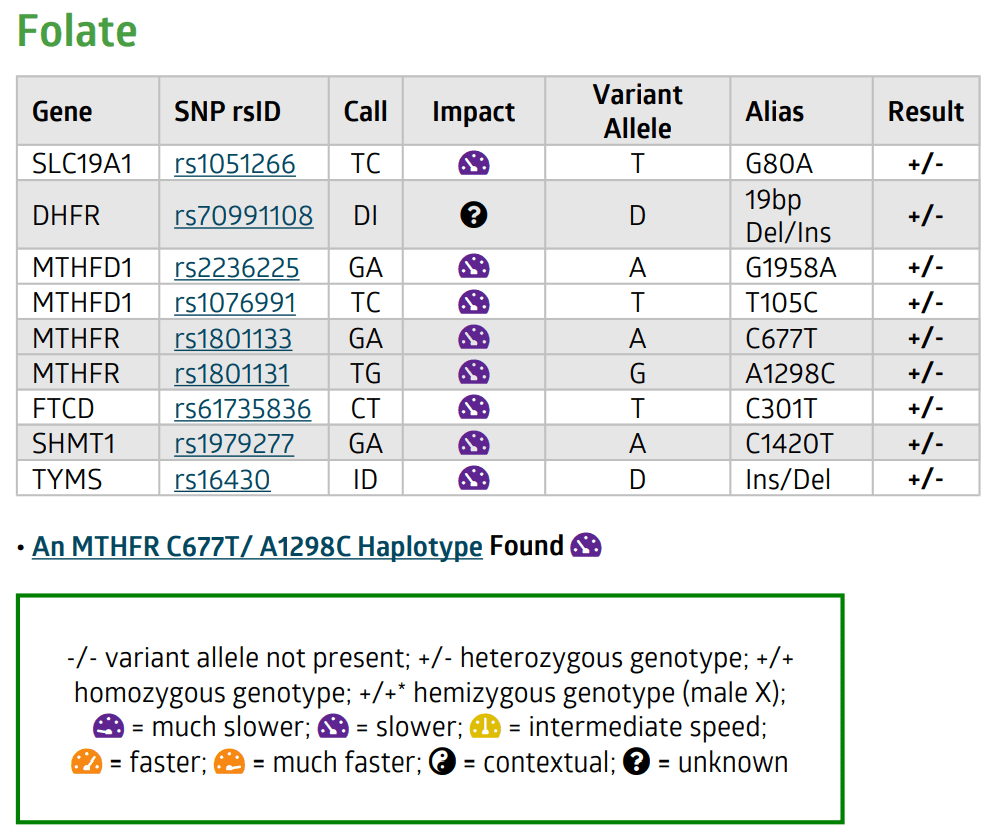 Customers should be careful about analyzing these results themselves. Some alternative medicine companies may take advantage of results to sell products. You should consult with a healthcare provider before making any changes to your diet, fitness, or supplement plan.
Review of StrateGene Cost
As earlier mentioned, StrateGene's primary service is the genetic reporting it offers to its users. The StrateGene reports are $95 each.
However, you can get discounts when you buy multiple products, as shown below:
Two products = $5 discount
Three products = $15 discount
Four products = $20 discount
StrateGene reports are not eligible for returns or refunds.
Other StrateGene Reviews
There are not many reviews online for this company and it does not sell its product through third party companies like Amazon.com. Overall, the product has a 4.3 out of 5 star ranking on its website with 16 reviews.
Most customers who provide a StrateGene review found the report very useful in increasing their understanding and developing health plans. They noted that reading the reports could be difficult but the education section provided with their purchase helped decipher it and they claim to have gotten more genetic information than other DNA tests.
The few negative reviews noted issues like not realizing that they needed to take a different DNA test and not enough clarity on which DNA results would be compatible with the service.
Some customers noted that they found the reports helpful in collaboration with reading Dr. Lynch's book published in 2018: Dirty Genes: A Breakthrough Program to Treat the Root Cause of Illness and Optimize Your Health. This product has a 4.7 out of 5 star rating on Amazon.com with over 2,500 reviews. Most reviewers noted that the book was extremely helpful, with clear and informative explanations of the effect of genes on health.
Nebula Genomics
StrateGene is a raw data upload company that no longer offers its own DNA tests. Instead, it carries out strategic genetic analysis of raw DNA data obtained from either 23andMe or AncestryDNA.
Although designed intentionally to focus on 150 genetic variants relevant to clinical health, this report is not a comprehensive view of your genome. On the other hand, Nebula Genomics uses its 30x whole genome sequencing to decode 100% of the genome, which includes all 20,000 genes.
If you already have DNA data from 23andMe or AncestryDNA, Nebula Genomics will let you upload it and receive additional data for free.
We are the industry leader in offering individualized genomic services. Since users have to carry out genetic testing from a different platform before uploading it to StrateGene, it leaves room for data gaps. Nebula Genomics provides the most accurate and precise sequencing data with detailed results that include predispositions regarding health, diet, exercise, and ancestry.
Our genetic reports do not need hours studying educational materials to decode them. They can be read and interpreted by the customer and are of the highest quality so that you can bring them to your healthcare professional for additional consultation and health plans.
| | | |
| --- | --- | --- |
| | StrateGene | Nebula Genomics |
| Testing | No test available | Saliva sample |
| Upload option | Yes | Yes |
| Genome Sequencing | No | 30x whole genome sequencing that decodes all 20,000 genes and regulatory regions |
| Ancestry Report | No | Performs detailed ancestry reporting with the complete Y chromosome and mtDNA sequencing |
| Counseling | No. But you are provided with lots of educational materials with case studies and courses that help you understand the results better | No, but data is of the top quality and available to your physicians and genetic counselors |
| Cost of services | $95 | $0, $99, $299 |
Did you like our Color Genomics review? You can read more reviews on our blog and check out our complete guide to the best DNA test kit and other home tests.
Other companies
Looking for other places to upload raw DNA data? You should check out these other services:
Ancestry:
Health: