7 Facts from our Ancient DNA Origins Review
Location: Dublin, Ireland
Products: GPS Origins HomeDNA™ testing kit and various analyses linked to ancient civilizations
Cost: $45-$99 for a DNA test kit, $0 – $30 for analyses
Reports: Insights into ancestral connections, genetic makeup, and cultural history
How it works: Download your raw DNA data, upload it to the company's platform, and purchase a test or subscription
Counseling available: No
Other Products: Nebula Genomics offers 30X Whole Genome Sequencing that decodes 100% of your DNA and offers reports on diet and much more!
This review is written with the intent to be as unbiased as possible. However, it represents the opinion of an individual reviewer and is therefore subjective. Furthermore, at Nebula Genomics we seek to educate the public about the benefits of Whole Genome Sequencing. Information about our Whole Genome Sequencing DNA test is therefore incorporated into the review.
August 1, 2023
Pros and Cons
Pros
The most comprehensive view of DNA connections to ancient civilizations
Collaboration with renowned geneticists ensures scientific rigor
Wide acceptance of DNA files from various testing providers
Subscription options with cost savings for regular users
Detailed reports incorporating genetic, historical, and archaeological information
Cons
Not compatible with large datasets, such as whole genome sequencing
Introduction
The Ancient DNA Origins DNA testing service lets customers answer questions about their ancient family story and uncover genetic history in historical context beyond written records. By using ancient DNA data, the genetic test reveals tribes and cultures, providing insights into the struggles and achievements of distant ancestors. 
The process requires upload of raw DNA data from a different ancestry DNA testing company. For convenience, Ancient DNA Origins offers the GPS Origins HomeDNA test for DNA sequencing among its product. This also includes migration patterns, migration routes, and geographical origins.
The Ancient DNA Origins tests compare customer data to DNA extracted from skeletons dated to prehistoric times. This allows the company to trace genetic genealogy based on DNA-mixture events that started over 15,000 years ago. It differs from most other direct-to-consumer tests which compare your DNA to modern humans. On the other hand, Ancient DNA Origins compares it to the past, identifying regions where a customer's ancestors lived in relation to civilizations such as the Vikings or Israelites.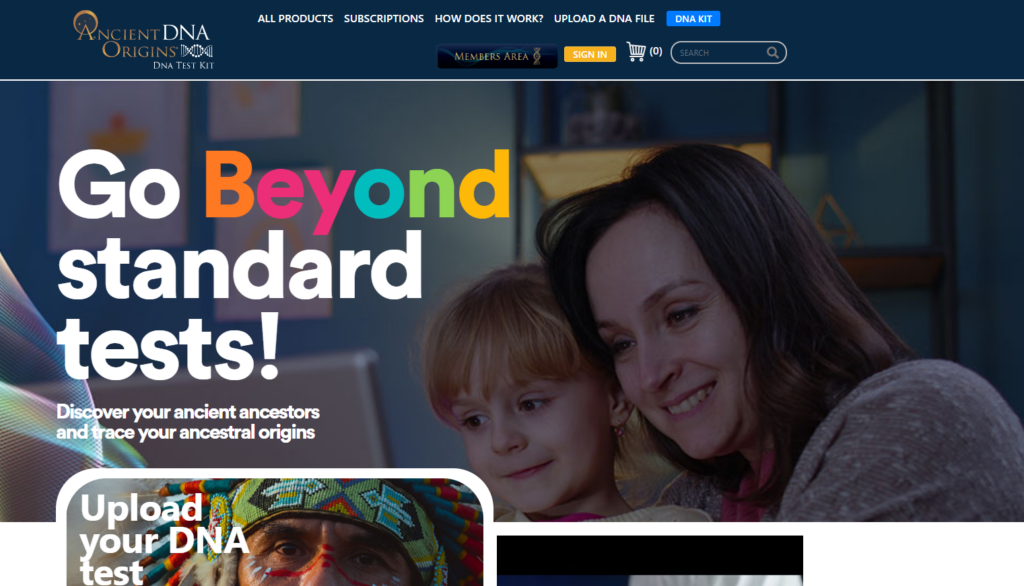 Logistics
Enkigen Genetics Limited, an Ireland-registered company, founded Ancient DNA Origins. Dr. Ioannis Syrigos, a computer engineer and ancient history enthusiast, leads the company.
Dr. Eran Elhaik, a population genetics expert, serves as the Chief Science Officer. He has designed the GenoChip 2.0 kit and test for National Geographic, the GPS Origins kit and test for HomeDNA, and a plethora of tests for Gene Plaza. His Ancient DNA Origins test are the first to combine paleogenetics and Artificial Intelligence (AI) to achieve accuracy of 95%.
The team includes Kostas Liampas, a business development manager, Dr. Micki Pistorius, an editor and psychologist, and other talented professionals.
The Science Behind Ancient DNA Origins
Ancient DNA Origins is a popular archeologic company that highlights new archaeological findings and ancient DNA research while  offering alternative viewpoints and explanations of global science, archaeology, mythology, religion and human history. 
Its open community brings together experts in archeological exploration to examine early civilizations and events and discuss historical mysteries. On its main website, visitors can read archives, watch videos, and participate in forums. 
The company sells a DNA test that compares your data to the genetic variations of reference populations from thousands of years ago. Advanced molecular biology techniques extract and sequence genomic data from early human fossils and ancient remains, providing insights into past people.
Some ancient samples are more difficult to obtain than others. For example, African DNA would have broken down more quickly due to high temperatures in that environment. Therefore, the Ancient DNA Origins tests have more focus on the civilizations for which DNA has been recovered.
As there are more records on European ancestry there are naturally more tests with that focus. However, the company notes that it includes multiple cultures from Levant, the Americas, and Africa.  
The tests were created by experienced genetic and archeologist experts and linked to the parent company's database and website.
Review of Taking an Ancient DNA Origins Test
To take advantage of discovering connections to early civilizations, customers need to download raw autosomal DNA data from a genetic sequencing company and upload it to the Ancient DNA Origins platform. The analysis will not work with strictly maternal or paternal tests. Ancient DNA Origins excepts files from DNA ancestry testing companies such as AncestryDNA, 23andMe, My Heritage, Gene by Gene, LivingDNA Origins and NatGeo. U.S. customers can alternatively choose to purchase and complete a GPS Origins DNA test from the website. 
Next, customers will choose an Ancient Origins DNA test and either pay for a test or start a subscription. Each test ordered is for one file. If customers have raw DNA files from multiple companies and want to analysis all of them, they will have to purchase separate tests.
Customers will receive an email within six weeks of the sample arriving at the lab indicating that their test report is ready to view.
Review of Ancient DNA Origins Tests
Customers can purchase either the Basic and Advanced test, which allows DNA to reveal cultures from all the continents (except for Antarctica). Both options include a personalized ancestry report to uncover family history, extensive records of the ancient culture, latest scientific knowledge, and an interactive interface.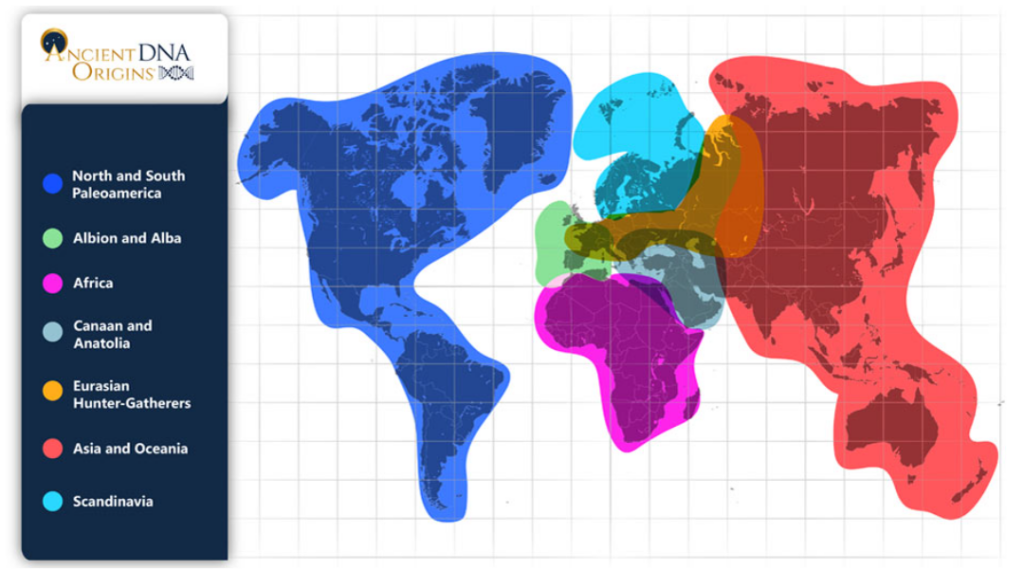 The basic test provides a low-resolution DNA analysis of ancient ancestry. In brief, it offers a broad overview of a customer's gene pool breakdown, allowing them to understand the general composition of their ancestral heritage. It includes seven ancient gene polls, two-five ancient individuals per test and 10+ modern human populations.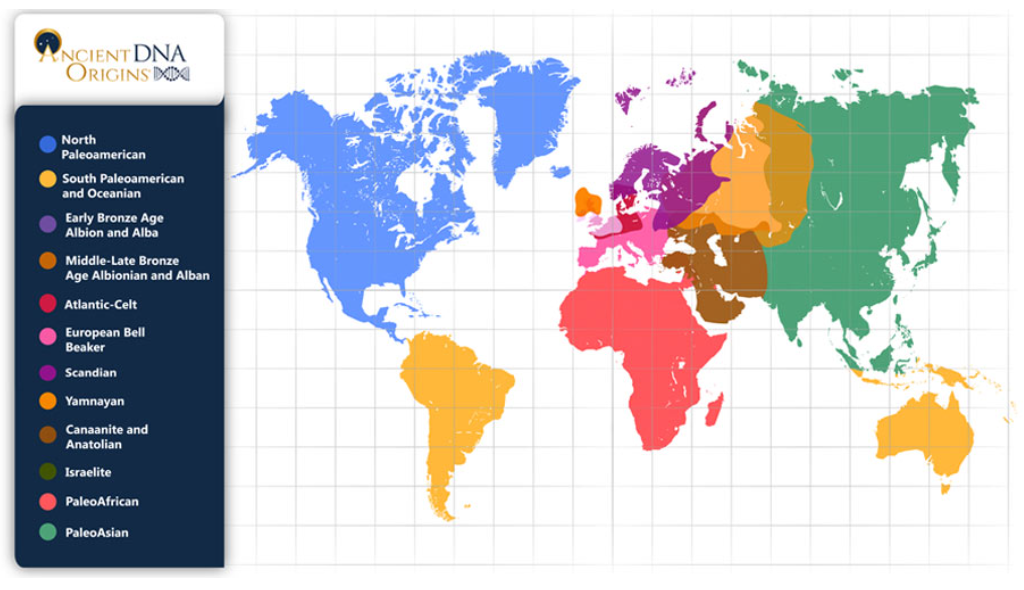 The advanced test offers a high-resolution analysis of DNA ancestry. With a more in-depth examination of your genetic data, it provides a comprehensive breakdown of a customer's gene pool, revealing specific details about their ancestral heritage. In addition to the features covered in the basic test, the advanced test includes 12 ancient gene pools, 15-30 ancient individuals per test and 50+ modern populations.
Review of Ancient Origins Products
The Ancient Origins Store offers products tailored to specific cultures for everyday users as well as genetic genealogists. If a customer does not see the civilization they are looking for, they can check the upcoming tests page. Customers can preorder upcoming tests at a discount.
For the culture options, individuals get a detailed breakdown of ancient geographical origins, ancestry maps showing where the ancestors lived and traveled, and the exact genetic similarity to each member of your ancient tribe.
My Ancient Gene Pools offers an affordable option for individuals to delve into a breakdown of ancestry with respect to the world's most ancient ancestries.
The basic test includes seven gene pools while the advanced one has 12.
Tribes of Israel and Ten Lost Tribes
For those interested in Biblical heritage and the tribes of Israel, Ancient DNA Origins provides a range of tests focusing on specific tribes dating back 2700 years. The tests offered in 2023 are Asher, Benjamin, Dan, Ephraim, Gad, Issachar, Judah, Levi, Manasseh, Naphtali, Reuben, Simeon, and Zebulun. These include the Ten Lost Tribes of Isreal before the Assyrian exile.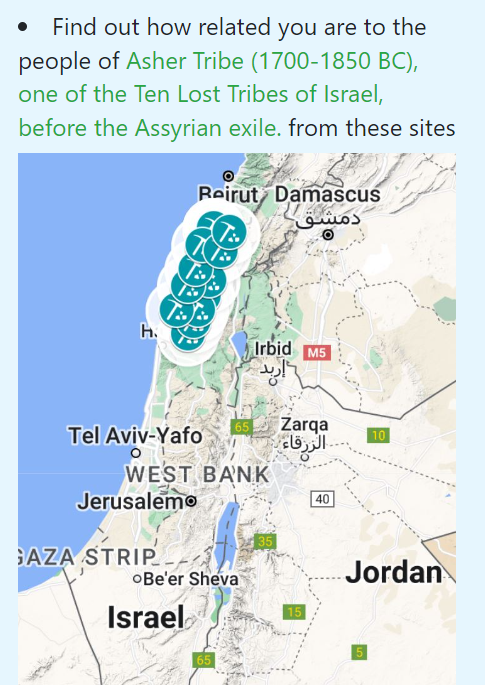 Customers can purchase these tests individually.
Viking Ancestry
With tests like Medieval Icelandic Vikings, Vikings of Ireland and the Isle of Man, Vikings of England and Wales, and Vikings of Scotland, Ancient DNA Origins caters to those curious to how they might be related to the Vikings.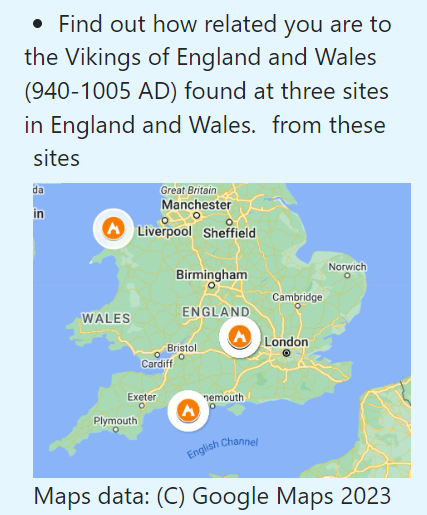 These tests offer insights into the genetic heritage of individuals with connections to these ancient Nordic cultures, allowing them to trace their ancestry back to the legendary Viking era, around 1000 years ago.
Other Ancient Cultures
Ancient DNA Origins also offers tests on various other cultures and civilizations: 
Ptolemaic Egyptians
Paleo Indians
Greek Mycenaeans
Britons of Roman Driffield Terrace
Crete Minoans
Genghis Khan Empire
Inca
Scythian and Amazon cultures
South African Zulus
Stonehenge Masons of Albion
Women Warriors
The Mighty Xiongnu Empire
Famous Ancient Men
Kent, Prehistory to the Dark Ages
Review of Ancient DNA Origins Cost
A portion of the cost goes towards purchasing and taking a DNA sequencing test, which can range in price. The company's website offers GPS Origins HomeDNA test for $45 with an Ancient DNA Origins subscription or $100 without one. A basic test of a single culture is included with any HomeDNA purchase.
Customers can order a single test
Basic: $40 (covers seven gene pools)
Advanced: $60 (covers 12 gene pools)
There are several subscription options available. The prices reflect annual costs.
Emerald: $120 (one Basic DNA Test per month)
Amber: $220 (one Advanced DNA Test per month)
Diamond: $250 (unlimited Advanced DNA Tests, updates, and expert lectures)
Opal: $300 (a HomeDNA testing kit for $45, unlimited Advanced DNA Tests, updates, and expert lectures)
Alternatively, customers can pay to unlock certain cultures individually. Basic versions range from $5-$10 and the advanced range from $10-$30.
The basic versions of My Ancient Gene Pools and Kent, Prehistory to the Dark Ages are free with any DNA upload. The advanced versions cost $10.
Review of Ancient DNA Origins Reports
The Ancient DNA Origins test offers insights into ancestral connections, genetic makeup, and cultural history. It analyzes ancient DNA, not modern-day populations.
Report sections include:
Ancient DNA Origins: Updated information about the culture from a historical, archeological, and genetic view.
Ancient People: Information on the individuals whom the uploaded DNA was compared with.
My Results: This includes the gene pool breakdown on ethnic estimates and how similar the DNA sample is to the culture in specific regions. Direct descendants should expect to see a 70-80% similarity.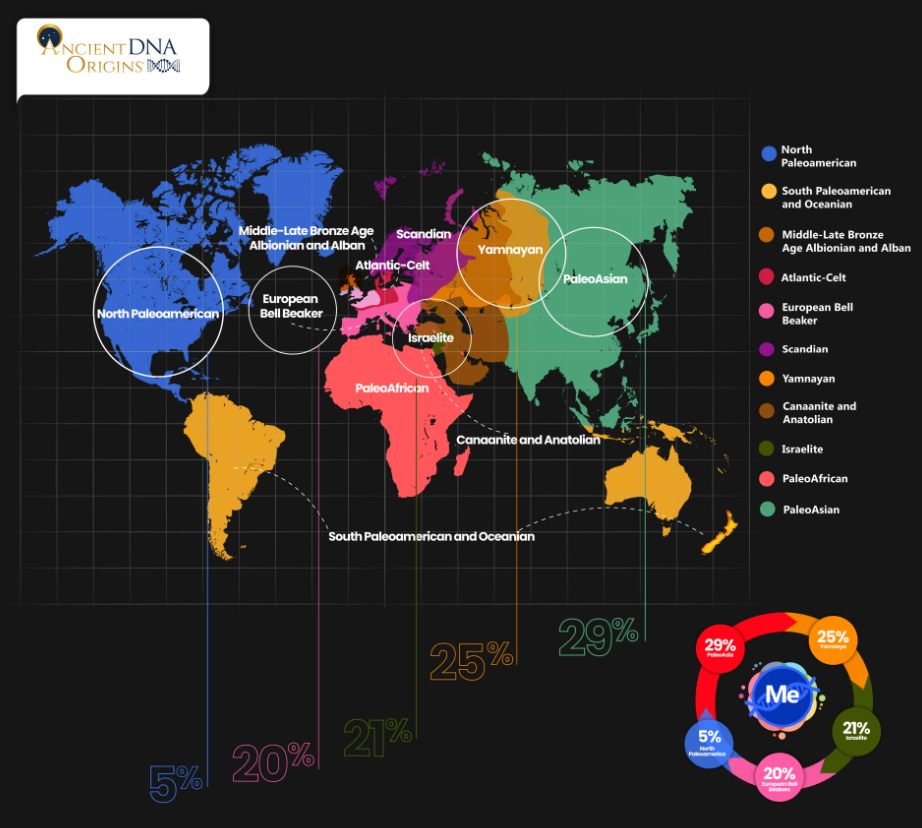 Population Wide Results: Comparison of a customer's genetic legacy with other modern people.
Results are based on either seven or 12 ancient worldwide regions. The report, spanning back to 12000 B.C. includes similarities to people and cultures, detailed stories on the culture, informative stories on early modern people, and historical events and people.
Review of Ancient DNA Origins Privacy Policy
Enkigen Genetics is the parent company that controls the privacy policy in accordance with EU General Data Protection Regulations.
Personal information, genetic information, profile information, and web traffic information are collected and stored for internal purposes and to provide services, communicate with users, and improve products. User information may be used for research purposes if consented to, with personal identifiers de-identified.
Personal information is not shared or sold except as required by law or in the event of company acquisition. The company claims that customers have full control over their data. This means that the company will not provide DNA data to third parties without opt-in consent and customers can delete their data from the server at any time.
Other Ancient DNA Origins Reviews
The company shares customer testimonials on its website. There are no reviews on third-party sites like Amazon and Trustpilot.
Nebula Genomics
Ancient DNA Origins analyzes DNA samples to provide insights into ancestral origins and genetic relationships with ancient populations. This can be an interesting and unique way to analyze your genes. On the other hand, Nebula Genomics focuses on human genome sequencing technology and offers a broader range of services, including ancestry analysis, health insights, and traits. 
With 30x Whole-Genome Sequencing, Nebula sequences 100% of your DNA and gives customers access to their entire genome. The test is incredibly accurate and includes other additions, including ancestry reporting and genome exploration tools. Regularly updated reports ensure that you will not miss the latest genetic research.
Nebula is not a diagnostic test, but the results are of the highest quality and can be used in consultation with health care professionals.
For only $299 or less, customers will get access to their entire genome, allowing them to continue to ask more questions as more research is conducted.
| | | |
| --- | --- | --- |
| | Ancient DNA Origins | Nebula Genomics |
| DNA collection | Cheek swab (if needed) | Saliva |
| Results | Connections to ancient populations | Sequences of all 20,000 genes and regulatory regions |
| Reports | Insights into ancestral connections, genetic makeup, and cultural history | An extended genetic report on health, traits, and more |
| Regular updates | Yes | Yes |
| Raw data upload/download | Yes | Yes |
| Ancestry reporting | Yes | Performs deep ancestry reporting with the complete Y chromosome and mtDNA sequencing |
| Counseling | No | No, but data is of the highest quality and can be used by physicians and genetic counselors |
| Cost | $45-$100 (test); $0 – $30 (analyses) | $0, $99, $299 |
Did you like our Ancient DNA Origins review? You can read more reviews on our blog and check out our complete guide to the best DNA test kit and other home tests.
Other companies
You may also be interested in these other DNA upload companies.
For ancestry:
For health and traits: