7 Facts from our NutraHacker Review
Location: Cheyenne, WY, United States
Products: Reports for gene mutations, carrier status, celiac disease, dentistry, depression and fitness.
Cost: $20-$85
Reports: A summary of genes detected related to the various categories and a guide for improving health
How it works: Patients upload their data from either 23andMe, AncestryDNA, tellmegen, or MyHeritage, and complete a survey. The company uses an algorithm to expand the data and create the purchased report(s).
Counseling available: No
Alternative Products: Nebula Genomics offers 30X Whole Genome Sequencing that decodes 100% of your DNA and offers reports on diet and much more!
This review is written with the intent to be as unbiased as possible. However, it represents the opinion of an individual reviewer and is therefore subjective. Furthermore, at Nebula Genomics we seek to educate the public about the benefits of Whole Genome Sequencing. Information about our Whole Genome Sequencing DNA test is therefore incorporated into the review.
July 19, 2022
Pros and Cons
Pros
Expanded data from other DNA testing companies
Access to raw data
DNA uploads and result delivery are completed within minutes
Cons
Limited genetic counseling
Limited number of SNPs analyzed
Reports may be complicated for the average customer
NutraHacker Health Introduction
NutraHacker examines genetic data to determine variants connected with a selection of health aspects including detox, fitness, celiac disease, and depression. The company provides people with in-depth analysis that focuses on their predisposition to diseases, depression, and supplements to boost their health.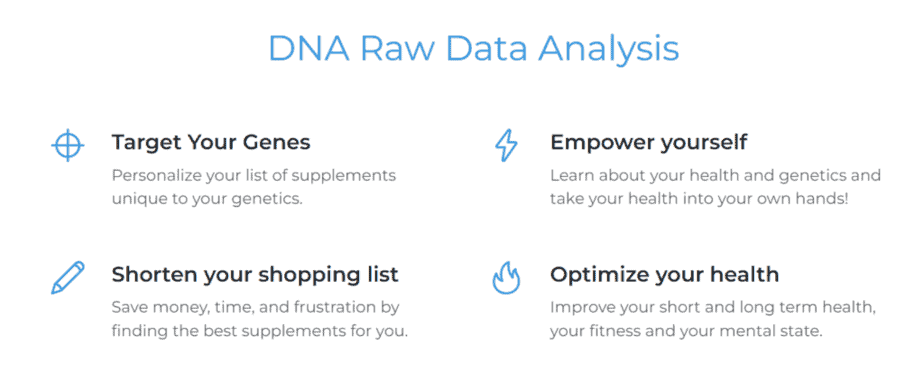 These services help people be proactive about their genetic health and take measures to improve their well-being. This further enables you to save time, money, and frustration by determining the best supplements to improve your health.
NutraHacker does not offer genetic testing. It is a DNA upload company that accepts raw data from 23andMe, AncestryDNA, tellmeGen, and MyHeritage. The company then imputes the uploaded data so that you receive a new genome file that is an expanded and estimated version of your raw data file to approximately 30 million locations.
The company was established in 2013 by UCLA graduates Mark Wagoner and Jonathan Vinea. Mark Waggoner is an expert in statistics and databases, while Jonathan Vinea is a biochemist with over five years of research experience. NutraHacker is based in Cheyenne, WY, United States.
Review of NutraHacker Products
NutraHacker sells reports based on expanded DNA data in a variety of health information categories.
The company notes on each document that the reports are for scientific, educational and nutritional information only. This means that they are not intended to diagnose, cure, treat, or prevent any disease, disorder, or condition and that customers should consult a healthcare professional for diagnosis and treatment. 
Options
Below are the six products that the company offers:
Complete Gene Mutation Report: This report includes the detoxification and methylation mutations. It is designed to inform customers about their nutrition and recommended supplements. The product does not provide dosage and is strictly based on reporting and analyzing information that customers need to better their nutrient choice.
Carrier Status: This report reveals carrier status for multiple health conditions and responses to medications. This report is available with 23 and Me data only.
Celiac: This report examines single nucleotide polymorphisms that pertain to Celiac. Celiac is present in 1/133 people while it is present in 1/56 people with physical symptoms. About 95% of Celiac individuals express some form of HLA-DQ2.
Depression: The report for depression is designed to let patients know how medications for distress and depression will work.
Dentistry: This dentistry report analyzes the single nucleotide polymorphisms that have been shown to have the strongest relation to dental caries. Research has shown that half of the cause of dental cavities is genetic in origin, and the other half is related to home care. This means that genetic information in dentistry is vastly underutilized.
Fitness: With this report, customers can find out more about their fitness level and metabolism. The kits provide information about users' health by analyzing the important genes that build results following resistance training and cardiovascular exercise. Patients will give an educational and information-based analysis that they can use to know more about their body and preferred exercise suitability.
Customers can download their imputed genome data as a .vcf file.
Uploading Raw Data to NutraHacker
Customers can visit the website to receive the NutraHacker expanded reports. Customers start by uploading raw data from one of the accepted sites (23 and Me, AncestryDNA, tellmeGen, or MyHeritage).
These files must be in .txt or .csv format. The upload takes about 3 minutes.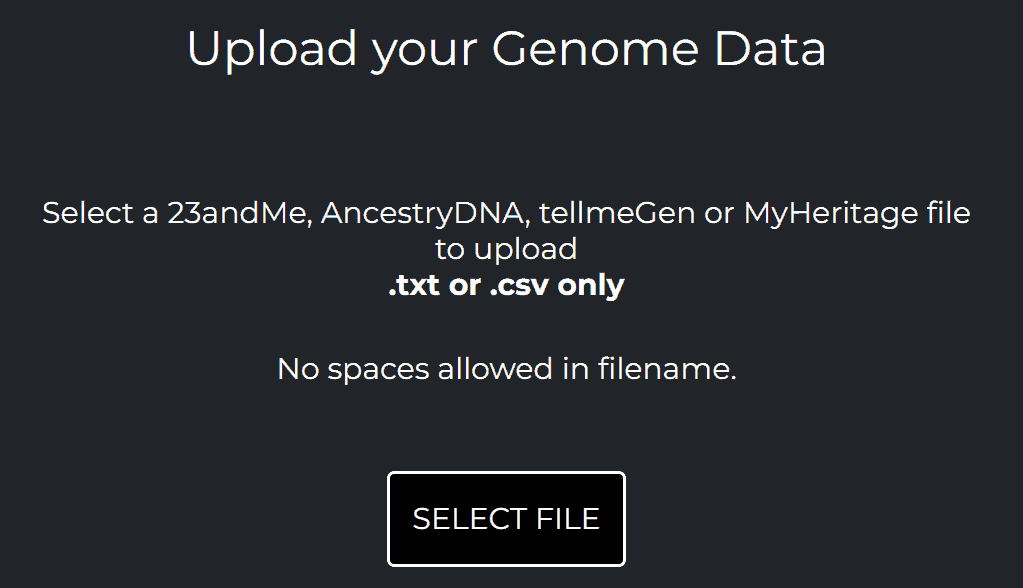 After filling out the questionnaire, you will be able to purchase all available products.
The company then provides DNA raw data analysis based on the product you chose.
Review of NutraHacker Cost
Reports cost between $20-$85.
Celiac Report: $20
Carrier Status: $23
Complete Gene Mutation Report: $37
Fitness: $55
Dentistry: $60
Depression: $85
By filling out the questionnaire, you can receive a free detox report.
Review of NutraHacker Reports
The company provides sample reports for each DNA analysis on its website. Generally, the format is one page of background information and multiple pages of tables containing the relevant information.
As an example, we will review sample results from the Complete Gene Mutation Report. 
Detoxification report
This detoxification report contains 10 headings: Category, RSID, Gene, Expected, Genotype: Risk, Frequency, Gene Function, Consequences, Encourage, and Avoid.

The Category signifies which cellular function or condition the gene relates to. The specific gene analyzed and the cluster to which it belongs. It is important to note that only mutations that are different from the typical genotype are reported. Normal or non-actionable genes are not shown.
Results are based on analyzed single nucleotide polymorphisms (SNPs). The results show the expected polymorphism. This genetic variant under the Expected heading is the one most beneficial.
It is usually also the most common, but does not have to be. The results in the next column, titled Genotype: Risk show the customer's actual alleles.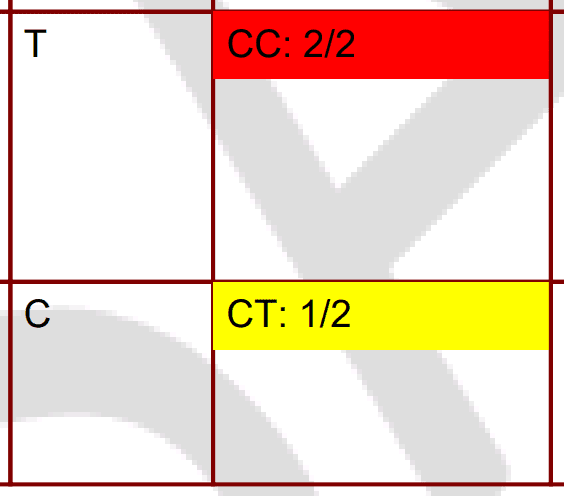 The results in the Risk section are color coded. Yellow, also known as heterozygous, means you have one 'normal' copy of an allele and one altered version. Red is homozygous meaning no 'normal' copy exists. Yellow indicates a genetic mutation that has less serious health implications than a red one.
Next, the Frequency section shows how common your alleles are in the general population and the function of the gene.
Finally, the last three columns are a guide to optimizing your health based on published research related to each atypical variant.

These three columns describe the physiological effect of the variant, which supplements can benefit your health, and any supplements you should avoid. The company does not sell vitamins or supplements.
Interpretation
For professional assistance with interpreting the results, customers are encouraged to go to the company's website, where it provides a list of partner practitioners located globally.
The other reports will have columns that are specific to that condition or trait. Even the disease reports will only provide genetic risk of a medical condition – these health reports are not intended to diagnose.
Other NutraHacker Reviews
Since the products are not available through third party sellers, there are not many customer reviews online. The company website has a testimonial section in which customers note that they found the service helpful and liked how they were provided with a lot of information.
The editor on DNAtestingchoice gave the service a 3.5 out of 5 star rating in 2016. They noted that the website was easy to navigate, but found their results difficult to understand.

Also in 2016, an article in Slate felt that the science behind the recommendations was not sufficient enough to make the claims presented in the reports.
Review of NutraHacker Privacy
NutraHacker knows the importance of confidentiality to customers, which is why they take the initiative to protect their customer's privacy. Your genetic data and contact information that the company can access are stored separately and only used to provide you with the necessary service.
Your email and IP address is used to provide you with their service and to send you any new product or service from NutraHacker. This company also has access to your name and self-provided health questionnaire, which are also used to create your report.
NutraHacker cannot rent, disclose, sell, or share your information with a third party with no business in their service. Any third-party from the company that can access customer's data uses it to help complete the customer's order.
Nebula Genomics
Did you know that most DNA testing companies only decode 0.01% of your genome? NutraHacker takes this information and fills in the missing data for certain health conditions, such as celiac disease, depression, fitness, and nutrition. Each expanded report costs between $20-$85.
A similar method to obtaining this information is by sequencing your entire genome from the start. This comprehensive test is called whole genome sequencing, and Nebula Genomics is one of the companies that offers it.
Nebula Genomics performs 30x Whole-Genome Sequencing, which decodes 100% of your DNA. For $299 or less, you get 10,000 times more data than other DNA testing and much more than the six targeted conditions from NutraHacker.
Whole genome sequencing is incredibly accurate and comes with other additions, including ancestry reporting and genome exploration tools. Regularly updated reports ensure that you will not miss the latest genetic research.
Already have data from companies like 23 and Me or AncestryDNA? Nebula can provide a similar service as NutraHacker with our own DNA imputation – and we will fill in all the blanks for free!
| | | |
| --- | --- | --- |
| | NutraHacker | Nebula Genomics |
| Testing method | None | Sequences all 20,000 genes and regulatory regions |
| Reports | Six reports for nutrition, fitness, celiac disease, depression, carrier status, and dentistry | An extended genetic report that is updated regularly |
| Ancestry reporting | No | Performs deep ancestry reporting with the complete Y chromosome and mtDNA sequencing |
| Counseling | Website contains links to partnered health professionals | No, but data is of the highest quality and can be used by physicians and genetic counselors |
| Cost | $20-$85 | $0, $99, $299 |
Did you like our NutraHacker review? You can read more reviews on our blog and check out our complete guide to the best DNA test kit and other home tests.
Other companies
Plus, you may be interested in these other sites that let you upload raw DNA data:
For ancestry and genealogy
For health