This review is written with the intent to be as unbiased as possible. However, it represents the opinion of an individual reviewer and is therefore subjective. Furthermore, at Nebula Genomics we seek to educate the public about the benefits of Whole Genome Sequencing. Information about our Whole Genome Sequencing DNA test is therefore incorporated into the review.
November 30, 2021
7 Facts from our Decipher Biosciences Review
Location: San Diego, CA, US
Products: Genetic diagnoses for severe tumors such as prostate tumors and bladder tumors. It also offers a genetic database, compiled from it's tumor testing, for researchers known as Grid
Ordering: Customers order a test via their physicians, and the physicians will receive the reports and interpret them accordingly
Health consultations: The company only carry out diagnosis, and there is no direct access for meeting with a health specialist
Data availability: Data is readily available, and patients can access their reports online once they receive a mail on its availability
Costs: Prices are not publicly available. The company will work with you to submit a claim to your insurance company. Most tests are covered entirely by insurance or patients pay $395 or less
Decipher Biosciences Introduction
Decipher Biosciences is focused on improving patients' lives on their journey with prostate and bladder cancer. The firm is one of the few genetic testing companies that offers diagnoses on urologic cancer. While the prostate genetic diagnoses are offered exclusively for men, genetic bladder diagnoses can be used for both men and women.
It should be noted that these genetic tests are performed on tumors already developed and diagnosed. They are used to analyze the cancer genomics of a particular tumor and guide patient care for those already known to have the condition.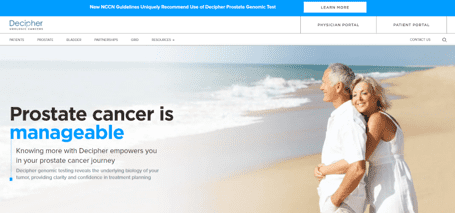 Decipher Biosciences was founded in 2008 as a landmark company whose major focus was to help breach the gap for patients diagnosed with urologic cancers and the influence of their genetics as an underlying factor. The firm has grown into a major corporation, attracting interest from investors. Based in San Diego, CA, the firm has recorded major success on different fronts, and this finally led to interest from Veracyte.
Veracyte, Inc., a global genetic testing firm with subsidiaries, acquired Decipher Biosciences in April 2021 for $600 million in an effort to improve its financial results and expand the near-term addressable market.
The acquisition of Decipher Biosciences has allowed Veracyte to add prostate and bladder cancer genetic diagnoses to a rich list of other services. They were already leaders in tests for lung, thyroid and breast cancers as well as tests for idiopathic pulmonary fibrosis, and an expected diagnostic test for lymphoma.
The companies jobs have shifted during this time. For example, Tina Nova Ph.D. left her position as Decipher Biosciences' president and CEO in February 2021 to become the general manager of urologic cancers at Veracyte. The company is controlled by a number of shareholders with Kevin K. Gordon as its CEO. This CEO has been serving since 2016.
The Science Behind Decipher Biosciences
Decipher Biosciences' mission under its new leadership is to ensure that every patient with certain kinds of cancer gets access to accurate diagnoses based on their genetics. These diagnoses help patients and their doctors understand the underlying factors of the tumors which can guide how they are best treated and managed.
The firm has continued to grow and expanded its science and reach as an advanced global tumor testing company:
Prostate cancer diagnoses
The company approaches its prostate cancer test with the fact that each tumor is unique, and patients will need to have a thorough test to be sure on how to manage their own conditions with their doctor. The prostate cancer diagnosis aims to provide clarity and help patients get localized treatment decisions that best handle their condition.
Bladder cancer diagnoses
Decipher Diagnoses also offer Bladder cancer diagnosis for men and women to help them better understand their condition. Decipher bladder is the only genomic subtyping tool available to physicians in the United States treating patients with locally advanced bladder cancer.
Apart from its cancer testing, the company offers a service for research institutions known as Grid. This product is a proprietary artificial intelligence platform and database constructed from its tumor tests. By offering it to genetic research studies, Decipher believes it can help develop new products and contribute to drug development and clinical trials. Through Grid, the firm takes contributions and professional testing from top institutions and has had over 100 medical institutions contributing to its research for better genetic tumor diagnoses.
Review of Decipher Biosciences Products
Decipher Biosciences offers three products:
Decipher prostate cancer diagnosis
Decipher genomic testing reveals the underlying biology of prostate tumors to provide clarity and confidence in treatment planning. The aim is to help professionals provide the best treatment for prostate cancer by combining genetic and clinical information.
This test is recommended for men with non-metastatic cancer who have not received pelvic radiation or ADT prior to biopsy or RP and have a life expectancy of 10 years or greater.

The test was developed from a large cohort of metastatic and non-metastatic prostate cancer patients treated at the Mayo Clinic. It uses 22 coding and non-coding biomarkers that span seven cancer pathways to provide a more accurate, independent prediction of risk.
The product also includes classifying the condition for better treatment. Decipher Prostate genomic classifier stratifies patients by risk of prostate cancer progression. Physicians use Decipher to help determine which patients may be safe for less intensive treatment approaches and which may need additional or more intensive treatment.
The prostate test is available in two options based on the type of procedure the patient is undergoing:
After biopsy: This test helps determine if patients are suitable for active surveillance, if they need monotherapy, or if they may benefit from multi-modality or intensified therapy.
After surgery: This test helps determine treatment timing following radical prostatectomy and whether patients undergoing salvage radiotherapy may benefit from hormone therapy.
Decipher bladder cancer diagnosis
Patients with T1 or muscle-invasive bladder cancer can benefit from Decipher Bladder. Decipher Bladder classifies bladder cancer tumors by molecular subtype. Physicians use this test to identify which patients are at the highest risk of upstaging at radical cystectomy and most likely to benefit from neoadjuvant chemotherapy (NAC).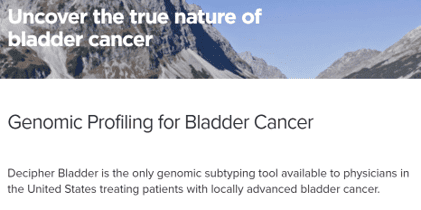 This product is recommended for Men and women considering NAC prior to surgery and is predictive of survival benefit from NAC by molecular subtyping.
Grid
Decipher GRID is a proprietary artificial intelligence platform and database for research purposes that generates genomic discoveries and catalyzes the development of new products to accelerate drug development and clinical trials. The firm collaborates with health institutions to discover new drugs and treatments for genetic induced cancer and related ailments or conditions.
Taking a Decipher Biosciences Test Kit
It is important to note that Decipher Biosciences does not offer sample collections for users directly. For users to get a genetic diagnosis for their prostate or bladder tumor, they will need to meet their physician to order the test kit on their behalf.
The physician will use the 'Physician Portal' menu on the website to make the order. They do this by first downloading and completing the appropriate Test Requisition Form. The form selected will either be for prostate cancer genetic diagnosis or bladder cancer genetic diagnosis. After this, the completed form, along with the pathology report and insurance information, will be faxed to 858-766-6575.
The test is performed on previously collected tumor tissue. Your physician and the corresponding clinic will prepare the sample after biopsy or surgery and send it to the Decipher Biosciences lab for genetic analysis.
Review of Decipher Biosciences Cost
The cost of these tests is not available online. However, the company does provide a comprehensive financial procure that describes how they work with insurance companies to get their tests covered for most patients.
Once the test is ordered, a claim is submitted to your insurance company. In most cases, the test is covered completely by the insurance, including Medicare and select private plans. If the test is not covered, Decipher Biosciences will submit an appeal on your behalf.
If your balance exceeds $395 after the appeal, a Decipher representative will work with you to explore additional options such as further engagement with the insurance company or applying for the financial assistance program, Decipher Assist. Qualification is based on your total household income. For those who qualify, total out of pocket costs can be $0, $100, or $295.
Review of Decipher Biosciences Reports
The Decipher Bioscience report is clinical in nature and should be interpreted by a physician.
Prostate Biopsy
The prostate biopsy is divided into three sections. The first page provides the patient's personalized Decipher score, which ranges from 0 to 1. This number indicates whether the genomic characteristics of the tumor indicate low, intermediate, or high risk.
Page 1 contains the Decipher score, risk estimates, and an interpretation of the score.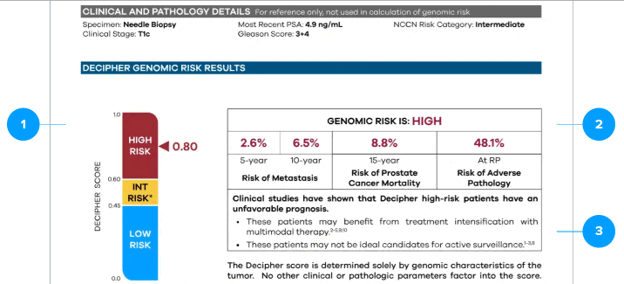 The second page contains case analysis, interpretation, clinical findings, and a QR code for more information.
The final section of the biopsy report includes a test description, intended use info, confidence intervals, and references.
Prostate Biopsy RP
This report is produced when the genetic test is performed on tumor tissue after radical prostatectomy surgery.
Similar to the Prostate Biopsy test, the Prostate Biopsy PR test provides a Decipher score on a scale of 0 to 1 which indicates whether the genomic characteristics of the tumor indicate low, intermediate, or high risk. The second section of the report includes case analysis, interpretation, clinical finding, and treatment graphics.

The final section of this report includes a test description, intended use info, confidence intervals, references, and a QR code.
Bladder Report
This report is a genomic subtyping tool that analyzes a patient's bladder cancer for presence of variou subtypes. The reports include information as the the risk of it being a particular subtype as well as the clinical interpretation.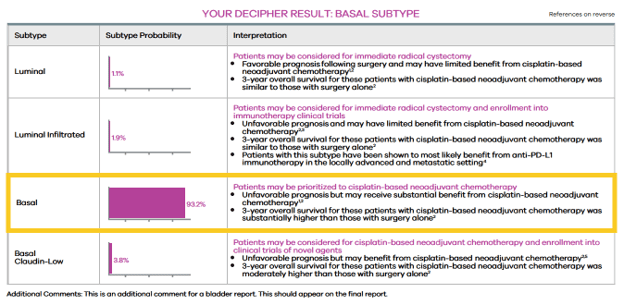 Review of Decipher Biosciences Privacy
Since its establishment in 2008, Decipher Biosciences has generally used its own privacy policy. However, following the acquisition agreement with the former stakeholders and Veracyte, the firm fully adopted the latter privacy policy in April 2021.
Veracyte is highly reputed in user privacy and ensures that clients' genetic and personal information is not exposed or accessed by unauthorized persons. The firm has a very strict confidential policy and claims to fully account for all its clients' information.
Veracyte policy was last updated on October 24, 2021, stating that users' information is only used for testing purposes. When used for research, clients' data are fully protected and are handled by the Decipher Biosciences personnel and labs.
Other Decipher Biosciences Reviews
Since this is a clinical based company in which tests are only available through a doctor's office, public product reviews are not available online.
Decipher Biosciences Pros and Cons
Pros
Advanced testing for prostate cancer genetic diagnosis
Advanced testing for bladder cancer genetic diagnosis
Simplified testing report makes it easier for a better-customized treatment plan
Cons
Offer only prostate and bladder testing
Can only be ordered through a physician's office
Test pricing and quotes are not made available
Nebula Genomics
Decipher Biosciences is a major genetic tumor testing company with a focus on prostate and bladder cancer genetic testing and has helped patients better understand and manage their conditions. The company offers a portal for both physicians and patients to provide specialized diagnoses depending on their needs.
However, while Decipher Biosciences is a top tumor genetic testing firm, its services are limited to analyzing tumors that have already been diagnosed. Also, it only offers tests for two major types of cancer; prostate and bladder. Genetic testing for certain cancer types can provide deep insight into the genetics of those tumors. This specialized testing means that some patients get to enjoy these advanced reports, but it also means that other potential customers will have to go elsewhere for other cancer types.
Nebula Genomics is not a clinical testing company and does not test tumor genetics. However, if you are concerned about your risk for developing cancer in the future, we offer the most comprehensive genetic testing for predispositions. Nebula Genomics provides 30x Whole Genome Sequencing which sequences all 20,000 genes and 2 million bases in the human genome. This means that clients looking to get more than prostate and bladder genetic cancer testing can fully depend on Nebula Genomics for the best service. Nebula Genomics also offers great pricing for its test kits. Customers get access to every gene for $299 or less.
Nebula results are of the highest quality and can be used in consultation with a physician or genetic counselor.
Below is how Decipher Biosciences compare to Nebula Genomics.
| | | |
| --- | --- | --- |
| | Decipher Biosciences | Nebula Genomics |
| DNA testing method | Tumor testing | 30x whole genome sequencing |
| Number of genes tested | N/A | 20,000 |
| Interpretation of results | Physicians get the reports on behalf of customers | Customers can interpret the results themselves |
| Ancestry reporting | No | Perform deep ancestry reporting with the complete Y chromosome and mtDNA sequencing |
| Data access | Yes | Yes |
| Cost | Not available publicly | $0, $99, $299 |
Decipher Bioscience vs Nebula Genomics
Did you like our Decipher Biosciences review? You can read more reviews on our blog and check out our complete guide to the best DNA test kit and other home tests. You may be particularly interested in Natera, Foundation Medicine, and Tempus Labs, other companies that use tumor genomics to help guide treatment.
Several companies use DNA sequencing for diagnostics. Unlike Decipher Biosciences, these tests are designed to be conducted on healthy individuals to help assess whether they are at risk for certain conditions.
Diagnostics:
Includes carrier status:
Mental health:
GeneSight (clinical genomic test for psychotropics)
Genomind (pharmacogenomic testing for mental health treatment)
Rare diseases: