This review is written with the intent to be as unbiased as possible. However, it represents the opinion of an individual reviewer and is therefore subjective. Furthermore, at Nebula Genomics we seek to educate the public about the benefits of Whole Genome Sequencing. Information about our Whole Genome Sequencing DNA test is therefore incorporated into the review.
January 18, 2022
7 Facts from our Tempus Labs Review
Location: Chicago, IL, United States
Products: Comprehensive genomic profiling assays to help the medical advisors of cancer patients, mental health patients, and COVID-19 patients understand their condition
Cost: The price for the tests vary. The base price for any kind of test is $295 or less
Reports: It takes about two to three weeks from when the company receives the patient's samples to deliver the reports. They send the reports to the patient's physician
How it works: Only physicians can order testing products for their patients. For tests requiring blood or saliva samples, the patient can mail it directly to the company. However, for tissue samples, the company requests it from the physician's office
Raw Data Access: Tempus Labs do not provide access to raw data
Complimentary Products: Nebula 30X Whole Genome Sequencing is a genomic profiling test that decodes all the information on your genome. The test reads 6 million+ positions on your genome and provides all the information you need to know about them.
Tempus Labs Introduction
Tempus Labs is a technology company that performs genomic profiling using both DNA and RNA tests. Its goal is to enable physicians of cancer patients, mental health patients, and infectious diseases patients (e.g., COVID-19). They also provide a personalized treatment regime for each patient based on these next generation sequencing techniques. The latter helps to improve patient outcomes.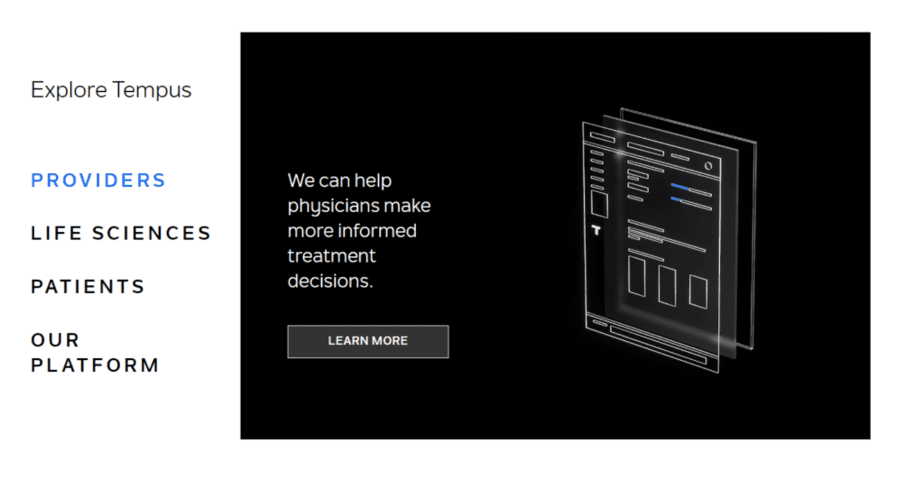 Eric Lefkofsky established Tempus Labs in 2015. He is a leading technology-enabled precision medicine provider who also runs many other companies. The goal of the company is to help patients determine the best treatment options for them based on their genetic makeup. The results of the tests go straight to the patient's doctor, who then advises the patient on the most suitable treatment method.
In 2020, the company announced their artificial intelligence driven smart tests platform to help analyze data and recommend treatments. This interactive analytical and machine learning platform is considered to be cutting edge technology.
The Science Behind Tempus Labs
The aim of Tempus Labs is to provide doctors, medical experts, and patients with accurate and comprehensive information about their genetics. This company considers the genetic aspect of the disease and helps patients know if their DNA and ancestry play a role or not.
Tempus Labs carry different types of genetic tests for patients, offering testing and counseling in oncology, neurology, and infectious disease. It also offers tests and research in sequencing, companion diagnostics, and clinical trial solutions. The company is also involved in academic research and EMR integration.
Tempus Labs aims to grow and provide services in neighboring countries to serve a larger range of customers. Specifically, it is working to build the world's largest library of clinical and molecular and data and an operating system to make that data accessible and useful.
With this technology, the company empowers physicians to make real-time, data-driven decisions to deliver personalized patient care.
Taking a Tempus Labs Test
Tempus Labs offer several services and products that make it a standout genetic testing company.
A test kit can be ordered online through the customer's physician. Then, the doctor will access the online order to place the test request online. Alternatively, they can print the Tempus Requisition form and send it to the company via fax or email. The form includes information such as the patient and physician information, current diagnosis, billing information, and consent to test.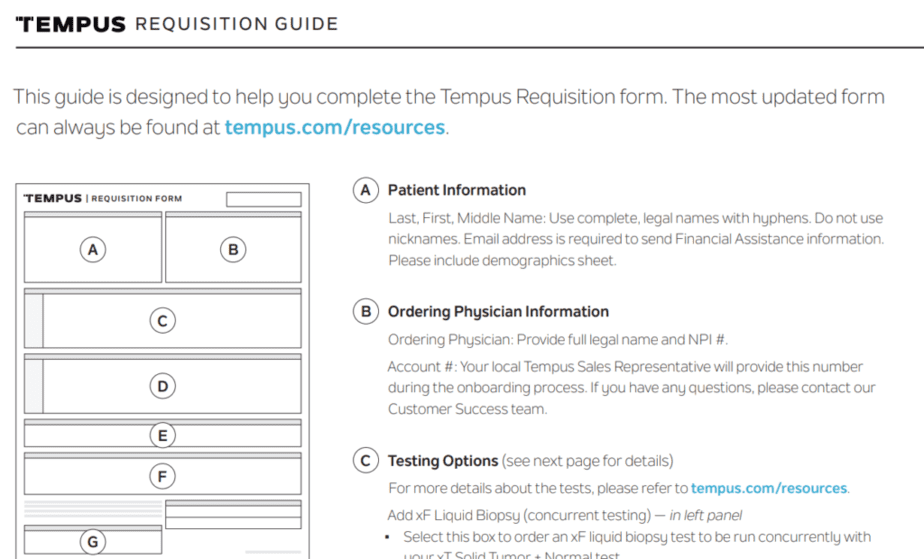 Patients will need to provide a blood or saliva swab depending on the test to the doctor on accepting the test requests. In oncology cases, their doctor's office will also provide a tissue sample of the tumor.
After approximately two-three weeks of sample submission, patients will be notified that their tests have been made available on their profile. Patients will also be able to know their results by checking their accounts.
Review of Tempus Lab Products
Oncology
Tempus Labs provides thorough genomic testing that sequences RNA, DNA, and others. These sequencing tests are carried out to help recognize specific adjustments that influence how your cancer behaves. Tempus evaluates the patient's RNA, DNA, cancer cells, and particular proteins to help assess the molecular data of the patient's cancer and create a personalized treatment method to help treat their distinctive cancer specifically.

This company's genomic testing is an advancement in treating cancer patients as it has helped bring cancer genomics to the clinical oncology workflow. This helps avoid errors and ensure that compulsory testing is done and the genomic testing is carried out on the right patient.
Tempus Labs genomic testing has become an important area of treating those whose cancer has advanced as it helps determine if specific FDA-approved and clinical trial therapies may have a greater benefit to certain patients with specific cancer.
A precise genomic testing outcome helps to provide cancer patients who need timely reviving cancer treatment, including therapeutic options and clinical trials. To conduct genomic testing for cancer patients, Tempus Labs uses their comprehensive xT test to check hundreds of genes in three types of genetic materials for alterations. This test includes both the tumor tissue DNA and the normal tissue DNA, when available, along with testing the RNA.
Mental Health
Tempus Labs believes in personalized mental health care for each patient. The company's Tempus nP test uses pharmacogenomics to provide your physicians with information about how your body may respond to different medications, based on your genes. This report can provide insight into the best dosage of a medication to administer to each patient and whether certain medications will be more effective than others. With the pharmacodynamic result generated by Tempus, physicians can choose the most appropriate medication for each mental health patient.
The company also created the Tempus Pro app that allows patients to quickly take down their symptoms between each appointment, thereby helping physicians to analyze how their patients are responding to treatment. This is an optional service that may be recommended by your physician.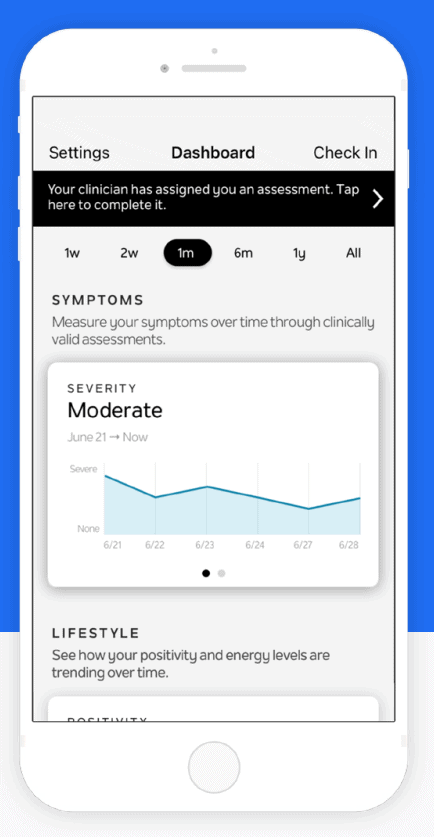 Patients can provide the saliva sample either at their doctor's office or from their home, if ordered and shipped there by their doctor.
COVID-19
To help identify and trace the spread of COVID-19, Tempus Labs offers their existing clinical testing laboratories, traditionally used to help cancer and mental health patients, for COVID-19 testing. As the world accepts that new infectious diseases could be around for a long time, a system should be created to help assess those affected by disease while putting together important information about genetics.
Tempus is dedicated to providing COVID-19 patients with the appropriate care by collecting information to help understand the disease and conduct PCR testing. The company also plans to partner with several educational medical centers to accumulate the genomic data of 50,000 COVID-19 patients.
A patient sample can be taken by the physician or by the patient while at home and sent to Tempus laboratory. Results are typically processed within 12-24 hours after the sample arrives at the lab.
The patient's doctor will disclose the results and some patients have the option to view their results through the Tempus COVID-19 mobile app.
The Tempus iC SARS-CoV-2 test is authorized for emergency use by the FDA – it is not an FDA approved product. It is also authorized by the EAU.
Review of Tempus Lab Cost
Tempus Lab is not exactly revealing about its test costs, and as such, patients will not know the cost of a test unless they apply for it. Based on users' information, the company test has an expected range of $0-$295. These costs are subject to changes with time, so it is important that users apply themselves and get the current prices to be sure.
Tempus accepts all insurance plans and at this time is in-network with Aetna and Priority Health. If uninsured, patients in the United States can apply for financial assistance to determine eligibility. Self payments must be made prior to testing.
For the oncology test, most uninsured patients who qualify for financial assistance will pay $100 or less.
Uninsured mental health patients will pay $295 out-of-pocket for the pharmacogenetics test costs. Once again, financial assistance is available to ensure that the cost is less than or equal to that amount for qualifying customers. Most patients with Medicare Part B and other forms of government insurance, such as Medicaid, do not pay any out-of-pocket costs for this test.
The COVID-19 test will be billed through the patient's insurance. The cash value for uninsured patients is $120.
Review of Tempus Labs Reports
Oncology
The clinical reports for oncology patients include six key factors that are fully analyzed to provide important information to patients. The six analyzed areas of the firm reports are:
Genomic variants
This part of the test provides an intuitive and concise presentation of clinically actionable somatic alterations, clinically significant germline, and pertinent negatives.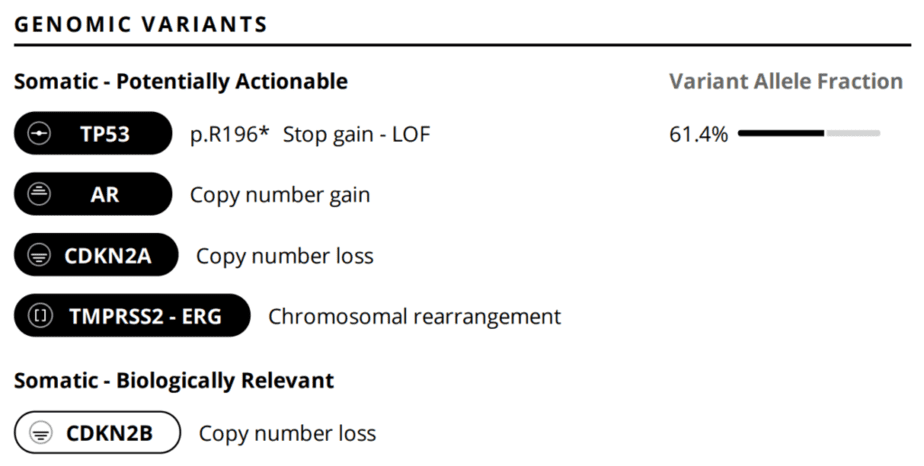 Immunotherapy Markers
A genetic test also provides key decision drivers for immunotherapy, including microsatellite instability, PD-L1, and MMR IHC.
Treatment Implications
The result also contains therapy options matched to each patient's genomic profile and organized by clinical evidence from FDA-approved to preclinical.

Clinical Trials
The result provides relevant clinical trials based on the patient's molecular profile and the clinical information pertinent to the inclusion/ exclusion criteria.

Gene Descriptions
Additional clinical context for all reported variants.
Clinical History
Patients' clinical history organized into sequential timelines with highlighted responses and adverse events.
Mental Health
This report will provide your doctor with information about how your genes can influence your body's metabolism of certain medications. These results are designed to help your doctor better manage your medications or treatment plan and deliver personalized care.
Review of Tempus Labs Privacy
Tempus Labs takes customer privacy extremely seriously, and this is evident in its notice on privacy and how it handles customer clinical data. Customers are assured that their personal and medical details are fully protected and can only be accessed by authorized staff and third parties. All testing and information is protected under HIPAA regulations.
Working at Tempus Labs
Reviews on sites such as Glassdoor and Indeed are generally positive with both sites rank the company as about 3.5 out of 5 stars. Most Tempus Labs employees indicated that it was a great place to work, they had a sense of purpose, and that they learned a lot. Some people indicated that management could be more supportive of individual employees.
Pros and Cons
Pros
Accurate and comprehensive tests that can influence treatment
Easy to use website
Some options for treatment monitoring and results through apps
Cons
Tests must be ordered through a doctor's office
Patients cannot access their raw data
Nebula Genomics
Nebula Genomics is an alternative comprehensive genomic testing company that offers 30x Whole-Genome Sequencing. While Tempus Lab focuses on gene profiles for certain conditions, Nebula decodes every single gene in the human genome, equivalent to 100% of a patient's DNA.
Tempus Labs is a clinical diagnostic company that focuses specifically on cancer and mental health medications. With this service, your doctor can interpret your results and recommend certain courses of treatment. On the other hand, Nebula is a consumer genetic company in which patients can purchase the test themselves and get their results from their home. Results will include the same genetic variants identified with a clinical company, as well as every other gene that may be linked to disease.
Nebula is not a clinical testing company, but the results are of the highest quality and can be used in consultations with physicians. With Nebula, you are not limited to certain conditions. As more research and discovery is made, you can continue to return to your results and learn more about your genetic predispositions.
Nebula Genomics sells its products for $299 or less. We also provide weekly updates on the most recent genetic research so that you can get the most out of your DNA sequencing.
Tempus Labs vs. Nebula Genomics
| | | |
| --- | --- | --- |
| | Tempus Labs | Nebula Genomics |
| DNA testing method | Targeted panels that include hundreds of genes | Sequences all 20,000 genes and regulatory regions |
| Ancestry reporting | No | Performs deep ancestry reporting with the complete Y chromosome and mtDNA sequencing |
| Data access | No | Yes |
| Report for making medical decisions | Yes | No but data is of the highest quality and can be used by physicians and genetic counselors |
| Cost | Typically $0-$295 depending on test type and insurance | $0, $99, $299 |
Tempus Labs vs Nebula Genomics
Did you like our Tempus Labs review? You can read more reviews on our blog and check out our complete guide to the best DNA test kit and other home tests. You may be particularly interested in Decipher Biosciences, Natera, and Foundation Medicine, other companies that use tumor genomics to help guide treatment. Or Genesight and Genomind, which help doctors recommend medications for mental health disorders.
Other companies
Several companies use DNA sequencing for diagnostics. Unlike Decipher Biosciences, these tests are designed to be conducted on healthy individuals to help assess whether they are at risk for certain conditions.
Diagnostics:
Includes carrier status:
Mental health:
GeneSight (clinical genomic test for psychotropics)
Genomind (pharmacogenomic testing for mental health treatment)
Rare diseases: