This review is written with the intent to be as unbiased as possible. However, it represents the opinion of an individual reviewer and is therefore subjective. Furthermore, at Nebula Genomics we seek to educate the public about the benefits of Whole Genome Sequencing. Information about our Whole Genome Sequencing DNA test is therefore incorporated into the review.
December 28, 2021
7 Facts from our Foundation Medicine Review
Location: Massachusetts, United States
Products: Comprehensive genomic profiling assays to help cancer patients understand their condition
Cost: The list price of FoundationOne® and FoundationACT® are $5,800, and the list price of FoundationOne Heme is $7,200
Reports: Reports on the patient's testing arrive after about 12 days from when your sample is received
How it works: The testing is ordered on the patient's behalf by their doctor. The doctor can send the patient's samples to Foundation Medicine or an at-home draw can be arranged to collect a blood sample
Raw Data Access: Foundation Medicine does not provide access to raw data
Alternative Products: Nebula 30X Whole Genome Sequencing decodes all the information on your genome. Nebula reads over six million positions on your genome to provide you with reliable results that can be used in consultation with a medical professional
Foundation Medicine Introduction
Foundation Medicine is a genomic testing company that provides DNA tests to help cancer patients and their doctors better understand the genetic mutations that affect their condition. This information provides insights to physicians and researchers that enable them to make personalized treatment decisions on the course of cancer care.
Foundation Medicine was established in 2010 by two researchers, Levi Garraway and Matthew Meyerson, following the publishing of the Human Genome Project and the Cancer Genome Atlas. Their vision was to help improve the molecular level understanding of cancer through genomic testing to transform precision medicine. Today, they partner with patients, physicians, researchers, and biopharma organizations to help inform patients of the most effective targeted therapies, immunotherapies, or clinical trials.
In ten years, the company has been transforming cancer care through the sequencing of over 500,000 patient samples, collaborating with over 65 Biopharma partners, and authoring over 500 peer reviewed papers.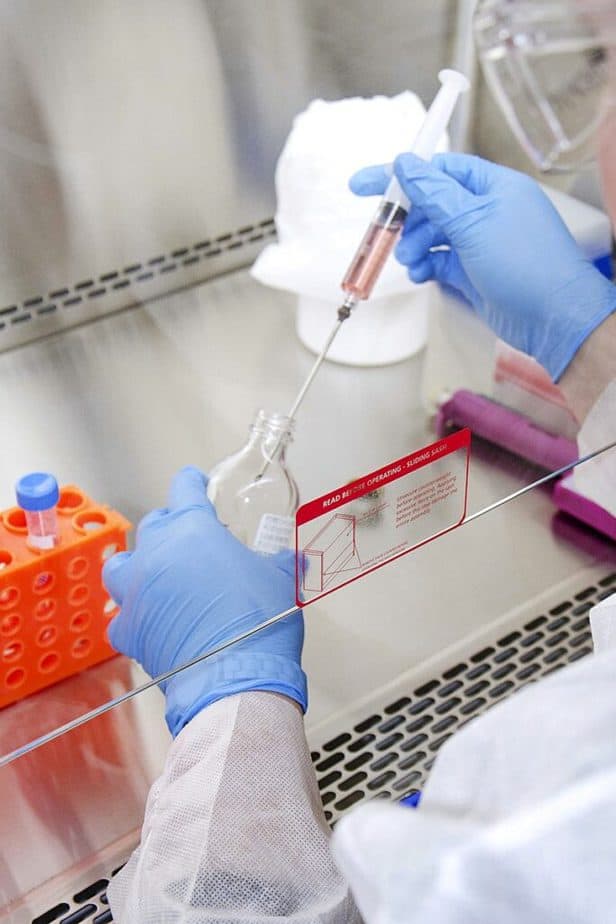 Foundation Medicine's tests are developed to evaluate more than 300 genes associated with cancer to provide comprehensive information that will help guide the patient's care.
These products are recommended for patients with advanced cancer at stage 3 or higher. They are performed using both tissue and blood samples. Foundation Medicine also offers support services for eligible patients, helping them make informed decisions concerning their treatment based on their test results. They are also involved in various researches to discover and develop new methods of treating cancer.
Foundation Medicine Review
Foundation Medicine produces different test kits for genomic profiling that can be ordered by physicians on behalf of cancer patients. They also offer services to assist medical practices in the treatment of cancer patients. All results are produced in CAP Accredited and CLIA approved labs.
Review of Foundation Medicine products
FoundationOne CDx
This test is the first tissue-based companion diagnostic test approved by the FDA for the analysis of solid tumors. The FoundationOne CDx test helps the physician determine a customized treatment method for a cancer patient based on the results of next generation sequencing.
The test analyzes 324 genes as well as genomic signatures including microsatellite instability (MSI) and tumor mutational burden (TMB). The results help the physician decide on a method to help the patient's immune system fight against the cancer (immunotherapy). This test is for patients with non-small cell lung cancer, melanoma, breast cancer, colorectal cancer, cholangiocarcinoma, prostate cancer, and general solid tumors. It also includes a loss of heterozygosity result which is useful for patients suffering from ovarian cancer.
Foundation Medicine can then make a recommendation from more than 20 FDA-approved therapies based on the results of the test. An example of this interpretation for non-small cell lung cancer is below:
A formalin-fixed paraffin-embedded (FFPE) tissue sample is needed to carry out the FoundationOne CDx test with results of the test made available after about 12 days after the sample is received by Foundation Medicine.
FoundationOne Liquid CDx
This is a variant of the FoundationOne CDx test, with the difference that it is carried out using a blood sample. This test is the most comprehensive liquid-based biopsy test available in that it is the only one that analyzes more than 300 genes associated with cancer. Like the FoundationOne CDx test, this liquid biopsy identifies genetic cancer biomarkers that help guide treatments. This test can be performed for non-small cell lung cancer, prostate cancer, ovarian cancer, and breast cancer.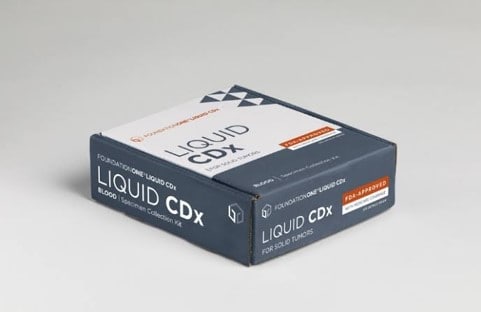 Collecting the blood sample for the FoundationOne Liquid CDx test has to be done with the Foundation Medicine test tubes included in the test kit. The blood can be drawn by the patient or an at-home draw can be scheduled. The results of the test arrive 10 days after the sample is received.
FoundationOne Heme
This comprehensive genome profiling test makes use of DNA and RNA sequencing to diagnose hematological malignancies, sarcomas, and solid tumors. This test is able to detect both common and rare genomic aberrations and fusions that allows physicians to map out the best therapy combinations for their patients. It also helps detect variations in the genes and previous diagnostic results.
This test sequences more than 400 DNA genes and over 250 RNA genes in order to root out aberrations, translocations, and fusions.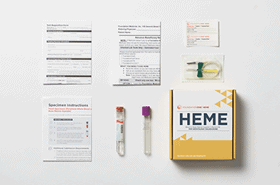 This test can be carried out using a number of different sample types. Blood samples, FFPE tissue samples, extracted nucleic acid, and bone marrow aspirate are viable samples for carrying out this test. Test results are made available in about two weeks after the samples are received.
PD-L1 IHC Testing
This test is an optional add-on for the tests discussed above to get more insight into a patient's condition. It looks for certain proteins expressed on tumors to make a more informed decision on certain immunotherapy options and clinical trials for a patient. There are three varieties of this test that can be ordered for a patient.
All the PD-L1 IHC tests are FDA-approved.
Review of Foundation Medicine Cost
The Foundation Medicine tests cost between $5,800 and $7,200. The company however claims that the cost for the test is billed directly to the patient's insurance agency. While they accept all insurance, they are not in-network for all companies.
In the event that the patient is uninsured or if the cost of the test is greater than the patient's insurance coverage covers, there are financial assistance plans available Medicare coverage is available for FoundationOne CDx and FoundationOne Liquid CDx.
The company has a FoundationAccess program that can be taken advantage of to assist the patient and the health providers with the cost of the tests.
Review of Foundation Medicine Report
The results of the Foundation Medicine tests are made available between 10 and 14 days after the samples are received depending on the test ordered.In cases where no result is obtained after the test is carried out, the patient will not be billed for the test and a failed report is issued.
The FoundationOne CDx and FoundationOne Liquid CDx reports provide similar information for patients with solid tumors. Each report is about 20 pages long, with the initial findings presented in the first two sections.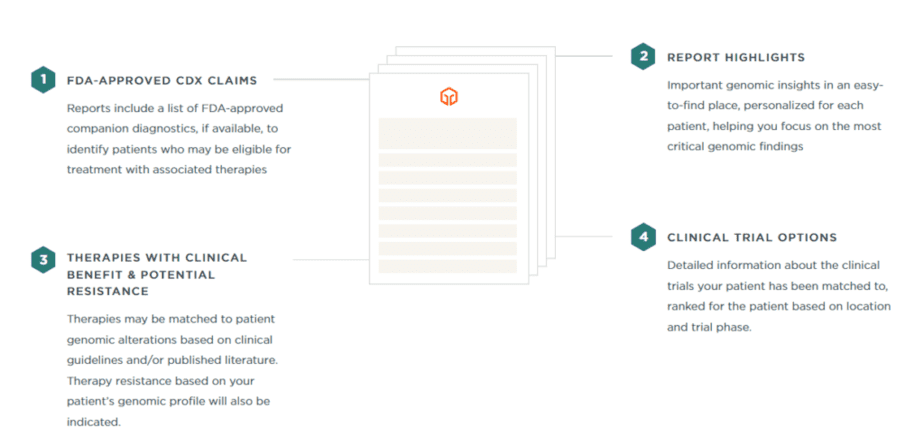 The first section of the report highlights the genomic alterations detected and the FDA-approved treatment options based on those discoveries. There is also a list of all other genomic and biomarker findings without companion diagnostic claims.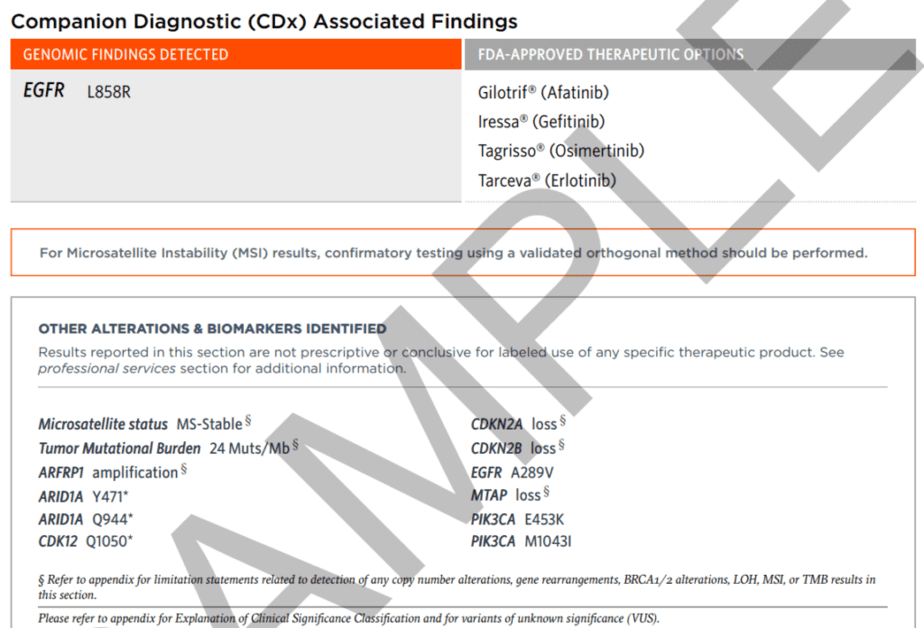 The second section contains a therapy table that includes therapies with a proven clinical effect in the patient tumor type as well as therapies with advantages in other tumor types. This section also includes notes of clinical trials based on the patient's unique genomic profile with page number for quick reference.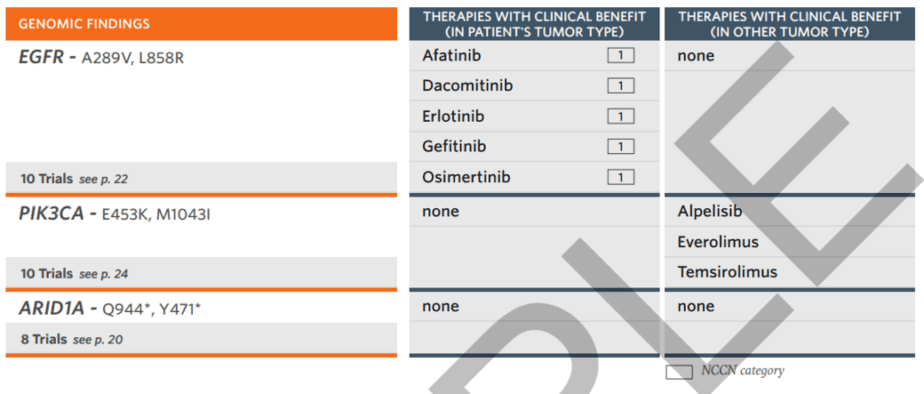 The report also includes genomic findings that do not have a direct clinical link.
The remainder of the report contains more detailed clinical information on the patient's unique genomic findings. It will break down genetic findings in detail, include clinical trial information, and provide additional tables if necessary.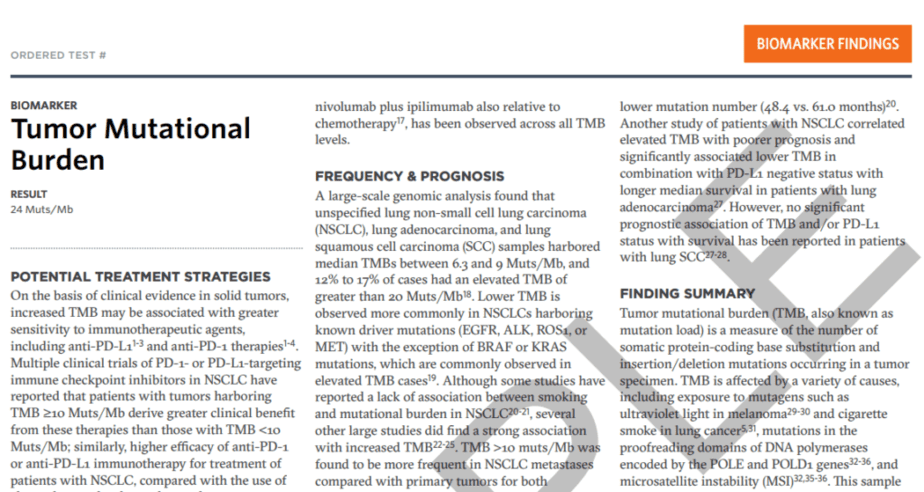 The report is sent to the doctor who is then expected to share it with the patient. The patient can however write to the Foundation Medicine client service team to request a copy of the report. The results of the test are made available to the physician on the Foundation Medicine online portal or through the iOS mobile app. Arrangements can also be made to have the report faxed over.
Review of Foundation Medicine Privacy
Foundation Medicine claims to keep the patient's personal health information private and only share it for reasons of treatment and billing. It however states that it may have to share a patient's personal health information if it is compelled by the government or law enforcement.
For more information please visit the company website.
Working at Foundation Medicine
There are a number of employee reviews working at the company on sites such as GlassDoor and Indeed.
Foundation Medicine employees are generally satisfied with their employment. Many positions allow employees to work remotely and reviews indicate that it is a great place to work. Several employees recommend working there. These people are generally saying that the pay is fair and that it is a great company with friendly coworkers.
However, some critical reviews note that the fast pace and support from higher ups like managers are lacking. Thus, the company has an average rating of 3.5 out of 5 stars on both GlassDoor and Indeed.
Some recent reviews from 2020 are particularly critical of the customer service department. One contract employee who left early due to the death of their grandmother was terminated for unexcused absences.
Pros and Cons
Pros
Comprehensive tests and reports
The costs of the test are usually covered by insurance
Extensive genomic database
Cons
The test cannot be ordered directly by the patient
Requires a tissue or blood sample
Expensive if not covered by insurance
Nebula Genomics
Foundation Medicine is a clinical tumor testing company that works with doctors and patients to improve treatment plans for cancer diagnoses. Thinking about genomics in a broader sense, many people are interested in understanding what their genes say about them and their predisposition to disease, like cancer. Nebula Genomics offers the most comprehensive commercial DNA tests with the use of 30x whole genome sequencing, which allows 100% of the patient's DNA to be evaluated.
Nebula Genomics is committed to making accurate DNA testing available to individuals at the most affordable price. These tests are privacy-focused and can be ordered by anyone in the world from their own home, meaning they do not have to share their results with anyone if they wish. Although not clinical tools, the results are of the highest quality and can be shared with doctors and genetic counselors.
Nebula Genomics offers three different test kits, the basic kit, the deep kit, and the ultra-deep kit. They cost $99, $299, and $999 respectively. The basic kit is a good choice for those that want to explore their ancestry and also their susceptibility to common medical conditions. The deep kit takes things further, giving buyers deep insight into their ancestry as well as their susceptibility to both common and newly discovered conditions. The ultra-deep kit provides the most advanced DNA testing available and decodes the entire sequence of the genome, providing extremely accurate and detailed reports.
| | | |
| --- | --- | --- |
| | Foundation Medicine | Nebula Genomics |
| Sample collection | FFPE, Peripheral Whole Blood, Bone Marrow Aspirate, Extracted Nucleic Acid | Saliva |
| DNA testing method | Comprehensive genome profiling | Whole Genome Sequencing (30x coverage) |
| Ancestry testing | No | Deep ancestry reporting with full Y chromosome and mtDNA sequencing |
| Raw DNA download | No | Yes (FASTQ, BAM, and VCF files) |
| Compatible with other services | No | Yes |
| Report | A single report provided at the end of testing | Weekly genetic reports based on the latest research and data (learn more) |
Foundation Medicine vs Nebula Genomics
Did you like our Foundation Medicine review? You can read more reviews on our blog and check out our complete guide to the best DNA test kit and other home tests. You may be particularly interested in Natera, Decipher Biosciences, and Tempus Labs, other companies that use tumor genomics to help guide treatment.
Several companies use DNA sequencing for diagnostics. These tests are designed to be conducted on healthy individuals to help assess whether they are at risk for certain conditions.
Diagnostics:
Includes carrier status:
Mental health:
GeneSight (clinical genomic test for psychotropics)
Genomind (pharmacogenomic testing for mental health treatment)
Rare diseases: