7 Facts from our Beyond Body Review
Location: Vilnius, Lithuania
Product: After answering a 5-min quiz, the site's algorithm creates a book based on your demographics, dietary habits, allergies, physical conditions, and goals. Customers can purchase this book an ebook and/or hard copy
Costs: The ebook alone costs $35, and ordering both the ebook and hardcover book costs $80. The ebook and paperback cost $30 with the Beyond Body App. The subscription fee to this membership varies depending on the time commitment
How to Order: You can order the products through the website only, as the company makes it based on your answers to the quiz questions
How it Works: After you answer the questions, you can customize the book's color and add your name. After that, the website presents you with the purchase options. The ebook should arrive at the provided email address within 48 hours, and the hardcover will take 1-2 weeks
Who can take this: Anyone wanting a healthier lifestyle can apply for this personalized program
Other products: Nebula Genomics decodes your genetic composition to help you decide which diet plans are better suited for your unique needs. Before getting into any dietary program like Beyond Body, learn about your "DNA book" and how well your body will respond
This review is written with the intent to be as unbiased as possible. However, it represents the opinion of an individual reviewer and is therefore subjective. Furthermore, at Nebula Genomics we seek to educate the public about the benefits of Whole Genome Sequencing. Information about our Whole Genome Sequencing DNA test is therefore incorporated into the review.
May 25, 2023
Edited by Christina Swords, PhD
Pros and Cons
Pros
You get the option of getting an ebook, physical book, or both
Includes a variety of choices and meal ideas. They have flexible options, alternatives, and substitutes
The book includes personalized educational content on healthier habits and motivation for success
Offers online coaching for a low price
You can keep track of success through the Beyond Body Assistant App
Cons
Does not include a grocery list
Only pictures, no workout plan videos
No way of keeping track within the ebook
There is no complete list of meal recipes
Some customers question how customized it is
Introduction
In this Beyond Body review, we will look at this program that promises to tailor a book personalized for your health goals. The company changed its name to Beyond Body. It is still the same program but with additional upgrades. It claims to be the first personalized wellness book in the world.
Perfect Wellness Solutions UAB, located in Vilnius, Lithuania, produces the Beyond Body book. The product is a book tailored to your fitness and health needs based on your answers to a quiz you participate in before ordering.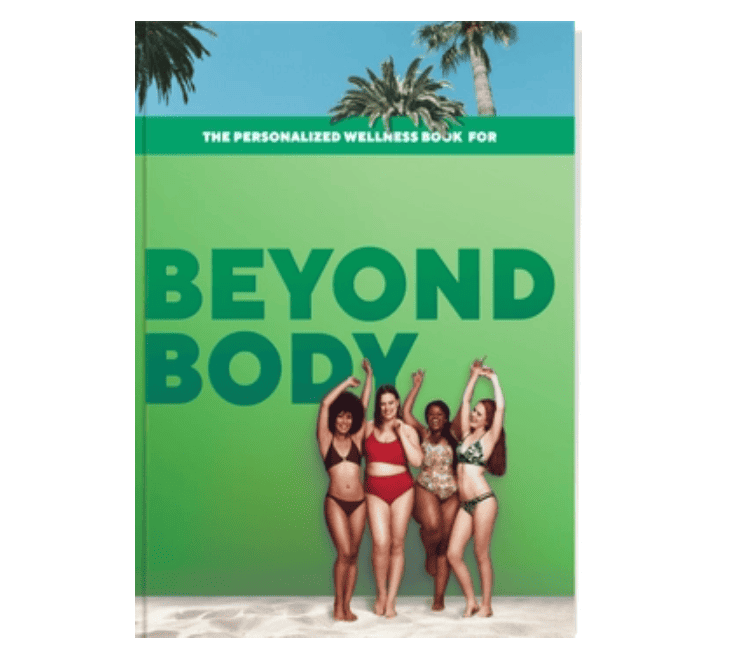 These fully personalized weight loss books include a 28-day meal plan with ingredients found at home but with the flexibility of alternatives. Unique daily routines with illustrations get the user into a whole fitness and healthy lifestyle plan for losing weight. This book aims to help guide individuals through their weight loss journey.
Avoiding weight gain can be a daunting task for many people. The Beyond Body book offers custom-tailored recipes and routines designed to help individuals reach their goals of maintaining or losing weight. By following these guidelines, the company claims, users can improve their diet and exercise habits.
The book
The program's focus is to coach you on sustainable healthy habits and how to eat and live well. In this regard, you get lessons, a fitness and healthy weight goal plan, and other helpful content. The main claim of Beyond Body is that they can get you an entirely personalized weight loss program and plan with 99% of the content "created exclusively just for you."
Other companies create weight-loss programs as one-size-fits-all. They do not adjust to personal needs, health conditions, dietary preferences, or physical abilities. Beyond Body presents itself as a unique solution.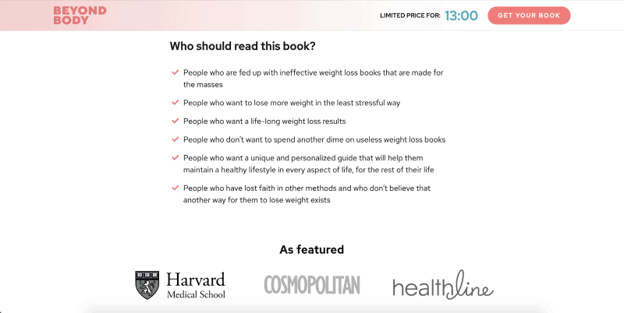 Anyone can access the book simply by going to the website and answering a quiz about your diet and health habits, demographics, current weight, and weight-loss goals. After you order, within 24 hours, you should receive a digital copy of the book. If you request a hard copy, the company will mail it to your shipping address in 8-14 business days.
According to how it is marketed, this product resulted from 5 years of study to create the ideal quiz. The Beyond Body diet ebook is $35. For an extra $45, you will receive a physical book at your doorstep.
The Science Behind Beyond Body
Before ordering your ebook, you should take a quiz that asks questions about several aspects of your demographic, physical state, dietary habits, preferences, and weight-loss goals.
The science behind Beyond Body is based on the idea that a personalized approach to weight loss and eating healthy can be more effective than one-size-fits-all programs. The program uses advanced algorithms to analyze data from the quiz and generate custom meal plans for 28 days, exercise routines, and lifestyle tips tailored to each user's unique needs.
It also provides users access to an online community of health experts available for advice and coaching. By focusing on long-term weight results rather than short-term gains, Beyond Body promises to help its users achieve their goals of losing weight in a healthy way while learning how to maintain a balanced and healthy diet and live an overall healthier life.
Review of Beyond Body Book: Is it worth it?
One strong point that Perfect Wellness Solutions makes is that this customized dietary and fitness plan's overall cost is much cheaper than hiring a nutritionist. This point alone seems to make it worthwhile. But does the book live up to its promise? Is Beyond Body a solution to cookie-cutter fitness meal plans?
According to reviews, the program does indeed provide individuals with a personalized meal plan tailored specifically to their diet preferences, health conditions, and physical abilities. Furthermore, it offers advice from health experts for additional support in order to ensure successful results.
Overall, the Beyond Body program appears to be worth its price tag for those looking for an effective weight loss solution that can be customized according to individual needs.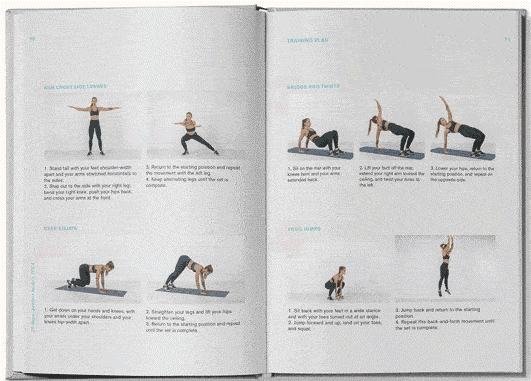 How does Beyond Body work?
After selecting your sex, you can access the sex-specific quiz. We ran this quiz once as female and once as male.
Then, the following questions collect your health habits and possible health conditions. They do not ask for detailed medical history. Once you enter this personal information, you get a message about the benefits of having a fully personalized book like the Beyond Body program.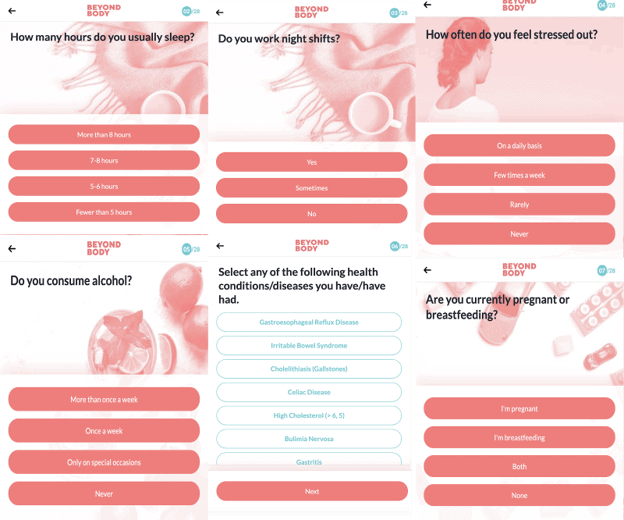 The next part of the quiz has to do with your dietary habits. The questions will collect information regarding these food preferences:
Pork
Beef
Poultry (turkey and chicken)
Veggies
Starch
To better help tailor your recipes, the quiz will also ask about your food allergies and other information on your lunch/work habits. After you enter all the information above, you get a message that tries to look customized, but you mostly get the same one regardless of your choices.
The following questions ask you about your physical condition, health, and how much you exercise.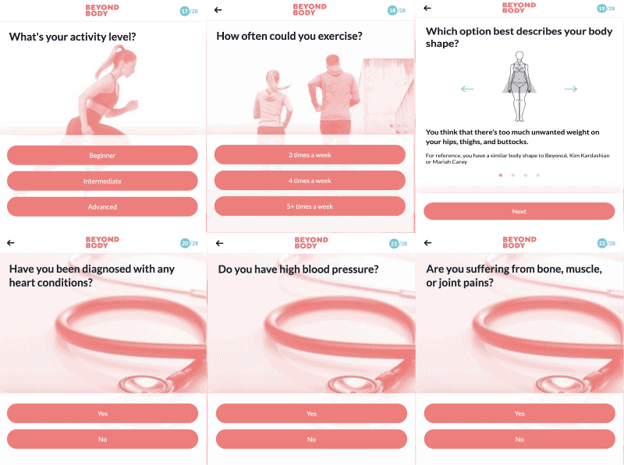 After answering a couple more questions about your routine physical activity, you get a message about why this book will work. Once again, we took this quiz twice, and both delivered the same response: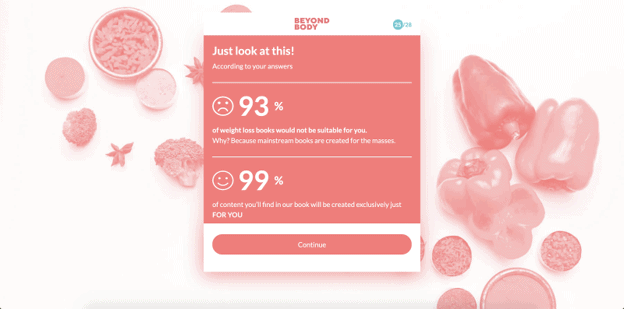 Results
Based on those quiz results, you may assume that this is the message everybody gets, or perhaps our answers to the quiz questions were not that different.
Next, you get to customize your wellness book cover a little and add your age, height, weight, and goals. Your Beyond Body book is now ready, and if you order, you get the promise of an ebook within 24 hours. Following the guidance in this book empowers you to build healthy living habits and live well.
Review of Beyond Body Book Cost
When you compare this book's cost to that of a personal dietary and exercise coach, you are generally saving money. However, many customers have expressed confusion about what you are paying for and how much.
Purchasing the hardcover book and ebook will cost you $80, whereas the Beyond Body book price for an e-book is only $35. 
The hard copy alone costs $80, meaning that you can opt-in for the ebook for "free."
This price drops to $30 if you add a Beyond Body App membership subscription. This cost will depend on your commitment like this:
1-month membership: $33.00/month
3-month membership: $18/month ($54 billed every three months)
6-month membership: $13.50/month ($81 billed every six months)
Is Beyond Body Safe?
The Beyond Body personalized book contains recipes, exercise routines, and information on how to stay healthier, purportedly based on the response to your questions. Perhaps the unsafe part would be mostly related to how well the book was able to pick up on your allergies (removing these products from your recipes) or your physical activity condition (by properly scaffolding your health and fitness routines). Generally, it wants people to focus less on short-term weight loss and more on long-term gains.
In any case, you should always consult with your physician before engaging in a diet and fitness/exercise routine. This ensures you will receive the proper nutritional requirements throughout. The company claims that the recipes come with alternative options if you find an ingredient you don't like or are allergic to.
Review of Beyond Body DNA Privacy
A company based in Vilnius, Lithuania, named Perfect Wellness Solutions, produced the Beyond Body book. The privacy policy note includes the company's contact information and email.
Since you input information into Beyond Body's website, it is stored within their servers with your email protected. The company may use this data to subscribe you to monthly newsletters and email messages. You may decline any of these services at any time you wish.
When you input information per the quiz you answered and identify yourself, Beyond Body can share this data with any member of their group of companies, insurers and/or professional advisors, payment service providers, and other service providers. This data may also be disclosed if required by legal services.
Beyond Body in the News
This program has made some headlines on a couple of websites.
Best Home Workouts (2021) Top Fitness Exercise Plan Programs is an Observer Content Studio that places the company as a top option for home workout programs.
Nutritionists Release New Wellness Book – Beyond Body – that Integrates Analytics into a Personalized Nutrition, Exercise, and Mental Health Programs was a press release on March 18, 2021.
According to a January 2023 New York Post article, whistleblowers revealed that TikTok violated policy by receiving $4.3M for weight loss ads. The social media giant apparently promoted two of Kilo Group's subsidiaries, ColonBroom and Beyond Body.
Other Beyond Body Reviews
Most Beyond Body customer reviews are mixed, with some users highly recommending the wonders of a fully personalized wellness book and weight-loss program. These customers tell success stories noting that they are pleased with their weight loss results and people report feeling healthier.
However, others providing Beyond Body book reviews claim the product is a scam with little to no personalized value. Additionally, there is always the usual complaint against customer service and customer support.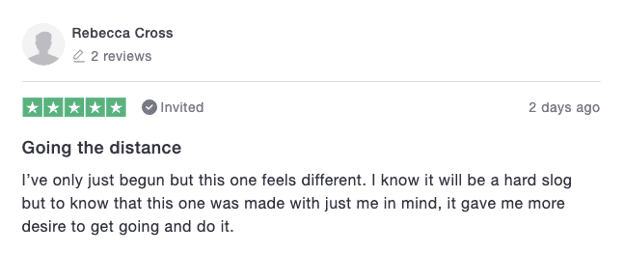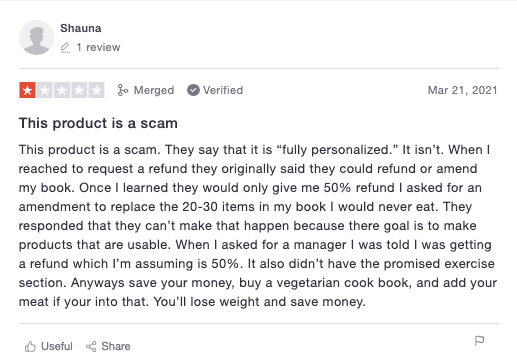 Negative reviews about Beyond Body range from complaints about customer service to dissatisfaction with the personalized book and quiz. Many customers have reported that they have not received their hardback books within the time frames announced by the company, leading to frustration and confusion.
Furthermore, users who have completed the Beyond Body quiz report that it is limited in scope to alternatives for basic meal ideas. The book has also been criticized for being overly simplistic and not offering enough personalized recommendations. Additionally, customer service is said to be unresponsive, and many customers have reported that they have had difficulty getting refunds or other solutions to their issues.
Beyond Body has been criticized for not being clear enough about the recurring charges associated with its services. Customers have reported feeling blindsided when they receive bills with extra items or fees they were unaware of.
Finally, some reviews report that the recipes provided by Beyond Body are not tailored enough to individual needs.
Nebula Genomics
At Nebula Genomics, we know about the importance of a healthy lifestyle. This is why we offer an accurate way of helping you discover what kinds of health plans will work for you or not based on your genetic composition.
Our 30x Whole Genome Sequencing decodes 100% of your genome, while other companies only decode a fraction. This methodology increases your chances of getting better results of what you need for a healthier life. With our regularly updated reports, you can stay up to date with the latest genetic studies and discover how they relate to your personalized genetic makeup.
If you would like to know more about how genetic variants are associated with dietary habits, take a look at this piece. You can also read about food addiction and how your genes correlate.
Other companies
If you are interested in personalized weight loss programs, you may be interested in these other reviews:
Or you could look into supplements that may help you lose weight, like:
Did you find our Beyond Body review helpful? You can read more reviews on our blog and check out our complete guide to the best DNA test kit and other home tests. Or, if you need more information, you can read more about DNA diet tests!