7 Facts From our Map My Gene Review
Location: Phoenix, Arizona United States
Products: Inborn Talent Gene Test for children and Disease susceptibility Gene Test for adults
Cost: $850 each
Reports: The Inborn Talent Gene test covers 46 talents and traits to maximize your child's potential, while the Disease Susceptibility tests provide analysis on 100 different genes that can put you at risk of developing certain diseases
How it works: Register and purchase the test. Provide a swab sample and mail package back to the lab. Have result uploaded to your account
Counseling session available: Yes
Alternative Products: Nebula Genomics offers 30X Whole Genome Sequencing that decodes 100% of your DNA and offers reports on diet and much more!
This review is written with the intent to be as unbiased as possible. However, it represents the opinion of an individual reviewer and is therefore subjective. Furthermore, at Nebula Genomics we seek to educate the public about the benefits of Whole Genome Sequencing. Information about our Whole Genome Sequencing DNA test is therefore incorporated into the review.
March 23, 2022
Pros and Cons
Pros
Promises 99% accuracy
One of the few talent and career-building genetic tests for kids and adults
Personalized diet and exercise recommendations
Some genetic counseling sessions
Cons
Relatively expensive
Single report limited to 100 diseases
Map My Gene Introduction
Map My Gene is based in the Greater Phoenix Area in the western part of the United States. The company was founded in 2008 and is a major platform for child talent genetic testing.
The company's goal is to help their customers live their best lives by aligning their lifestyle with their genetic makeup. By revealing genetic predispositions, Map My Gene believes customers can focus on optimizing their natural tendencies.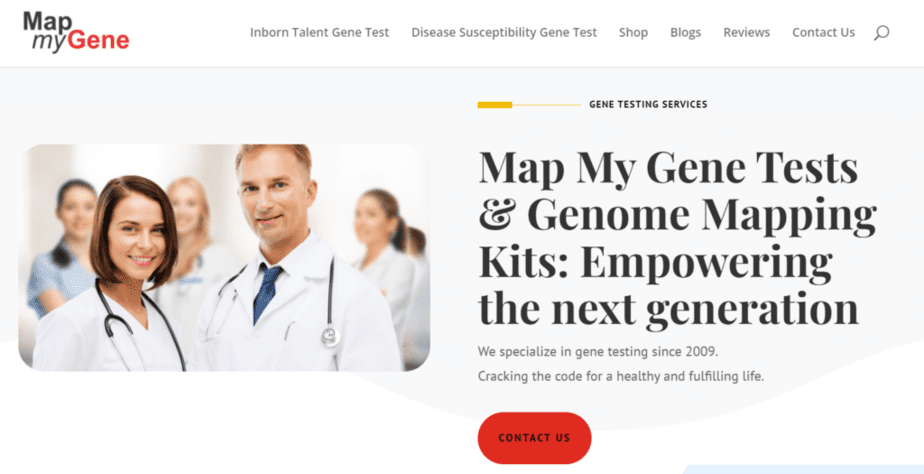 Map My Gene provides two types of test panels. The first panel focuses on helping parents reveal their children's innate abilities. From our research, this is one of the few companies that offer this type of service for children. The test claims to reveal aspects such as personality traits, natural artistic talents, athletic robustness, IQ and EQ. Overall, this can help advise parents on the best development programs for their kids. The other test provides information on genetic vulnerabilities to common and complex health conditions.
The second test is a disease panel for children and adults where the report will analyze your risk factors of 100 of the most prevalent diseases.
The Science Behind Map My Gene
Map My Gene does not believe in the one-size-fits-all approach. It believes that genes reveal natural talent in children and that fostering those aspects will help parents optimize childhood developments. This idea is largely based on the Nature vs Nurture debate which questions whether an individual's personality and life rely more on what they are born with or the environment in which they are raised.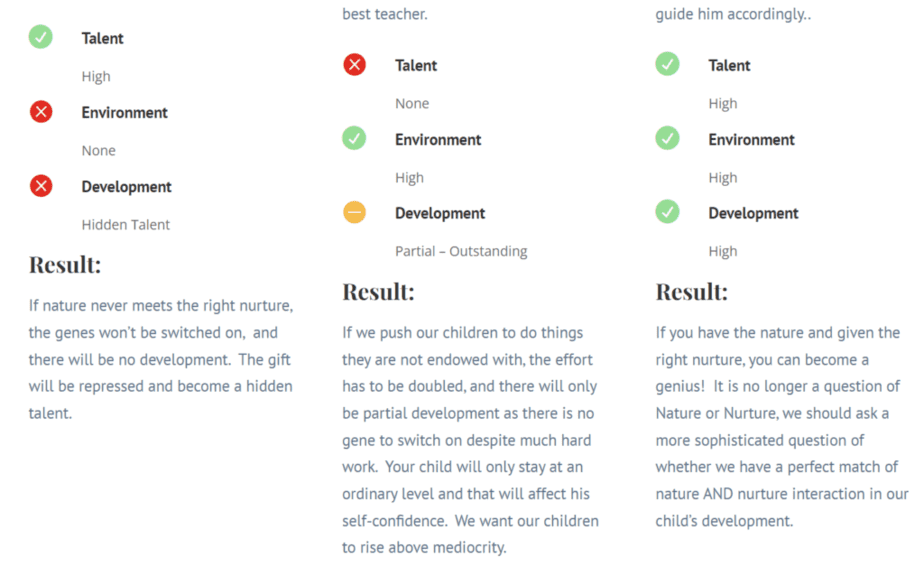 The company believes that if nature is not nurtured, the genes won't be switched on and the child may never realize their true potential. On the other hand, if parents push their children to do things that are not within their nature, there will only be partial development since no gene is there to optimize it. In this case, children may lose confidence as they can only reach a partial level. By combining genetic health with targeted development, the company believes you can maximize your child's potential.
By analyzing your child's genome, Map My Gene believes that parents can learn to nurture the correct nature that will maximize the child's development. This could lead to more fulfilled lives and even successful careers.
Taking a Map My Gene Test
Customers will order their test online and receive the test kit at their home in 5-7 days. The kit includes instructions on how to take a DNA sample via a cheek swab. After sample collection, you will mail the sample and a consent form back to the company for lab processing. The company analyzes your DNA and provides reports within 4 weeks.
Review of Map My Gene Products
Inborn Talent Gene Test
This Map My Gene DNA test helps parents recognize their child's aptitudes and talents based on genetics, which are challenging to notice when they are still young. The DNA test covers 46 genetic traits and talents analyzed through single nucleotide polymorphisms (SNPs).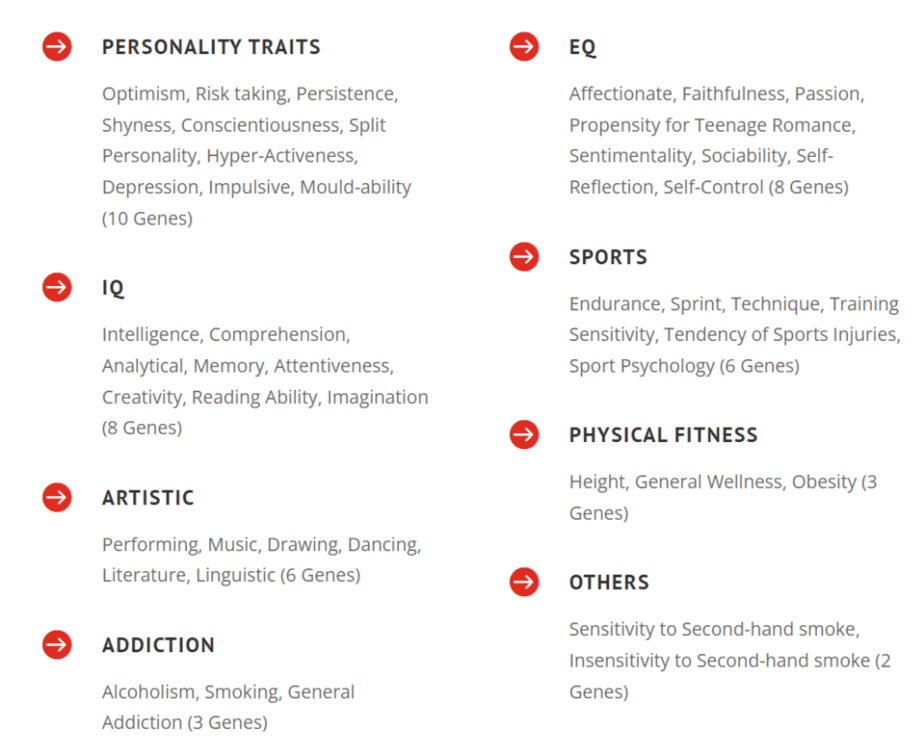 The inborn talent gene test covers 8 important categories: personality traits, IQ, artistic, addiction to drug response, EQ, sports, physical fitness, and others.
The Map My Gene psychologists team also helps to assess your child's career profile based on the unique characteristics discovered from their genetic profile. A child's genetic profile helps guide them on the education and career path that would maximize their inborn talent. This is based on John Holland's theory that most people fall into one of six different personality types that relate to various occupations. These types include realistic, investigative, artistic, social, enterprising, and conventional.
Your top 3 categories are your RIASEC code. By understanding this code, you can choose developmental programs that aid your child in college preparation and exploring career options that best fit their talents.

The test includes other interesting traits not directly related to academics. It unravels your child's music or performing attributes, drawing or linguistic skills, addictive behavior towards smoking or alcohol, and how faithful or affectionate they would be. Your child's physical fitness and sports attributes like how sensitive they are to training, their endurance capacity, how prone they would be to sports injuries, how tall they will be, and their tendency of becoming obese are also included.
Adults who may be looking to make a career change may also find this test helpful in assessing their innate ability they may have been unaware of.
Disease Susceptibility Gene Test
This DNA test helps identify if a person has high genetic risk to diseases. This test covers about 100 most common diseases to predict a person's disease according to their genetic profile. With your genetic knowledge, you can take preventative measures and manage your health to help protect yourself and live a healthier life.
Our bodies are different from one another so also is our genetic strength or weakness, which causes our bodies to fight against diseases differently. With this advanced genetic test, you will learn your genetic predisposition to 100 common diseases in 12 categories.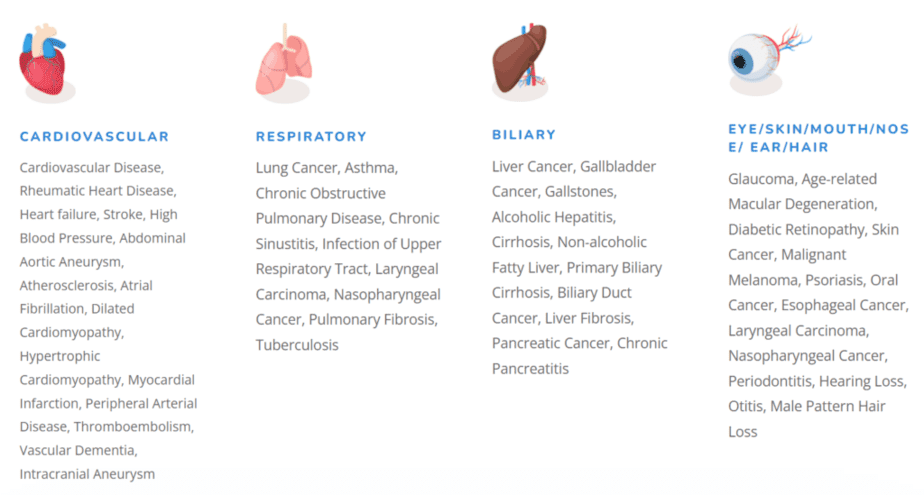 Notably, this DNA test helps you know if you are susceptible to rheumatic heart disease, cardiovascular disease, stroke, high blood pressure, dilated cardiomyopathy, vascular dementia, thromboembolism, atherosclerosis, and intracranial aneurysm.
You will also be given information on things like chronic sinusitis, lung cancer, tuberculosis, nasopharyngeal cancer, type 2 diabetes, pulmonary fibrosis, asthma, laryngeal carcinoma, liver cancer, liver fibrosis, and pancreatic cancer. Chronic pancreatitis, gallstones, alcoholic hepatitis, glaucoma, skin cancer, diabetic retinopathy, hearing loss, oral cancer, psoriasis, otitis, periodontitis, cerebral cancer, multiple sclerosis, diabetic neuropathy, stomach cancer, ulcerative colitis, and other diseases are also included in this DNA disease susceptibility test.
This DNA test report acts as a precautionary measure to help protect yourself from diseases you are prone to and provide you with a customized health guide or solution to living a healthy life. The Map My Gene disease susceptibility test is 99% accurate scientifically proven, and clients should also be rest assured that it meets validity standards.
Review of Map My Gene Cost
The Map My Gene is pretty high compared to other top genetic companies that offer similar testing. The costs for the Inborn Talent Gene Test and the Disease Susceptibility Gene Test are both $850.
You can also get two tests as a bundle for $1,530.
Review of Map My Gene Reports
Map My Gene offers comprehensive test reports for patients in their analyses. The child test panel analyzes 46 traits that provide information on important areas of a child's development. The report separates each of the traits into eight categories and ranks them on a scale of 1-4.
The report also includes a career profiling section that focuses on your child's unique abilities in regards to career and professional development. These results focus on the six personality types: realistic, investigative, artistic, social, enterprising, and conventional.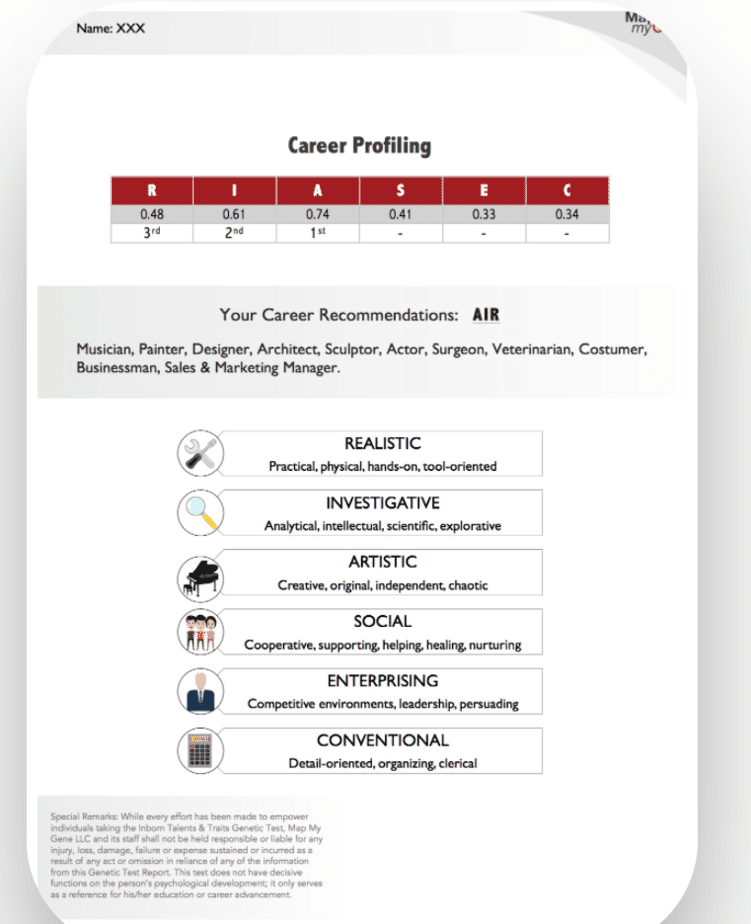 The disease susceptibility test provides vast information on 100 common genetic markers that indicate disease risks, allowing customers to understand their genetic risk as well as action steps they can take to prevent disease.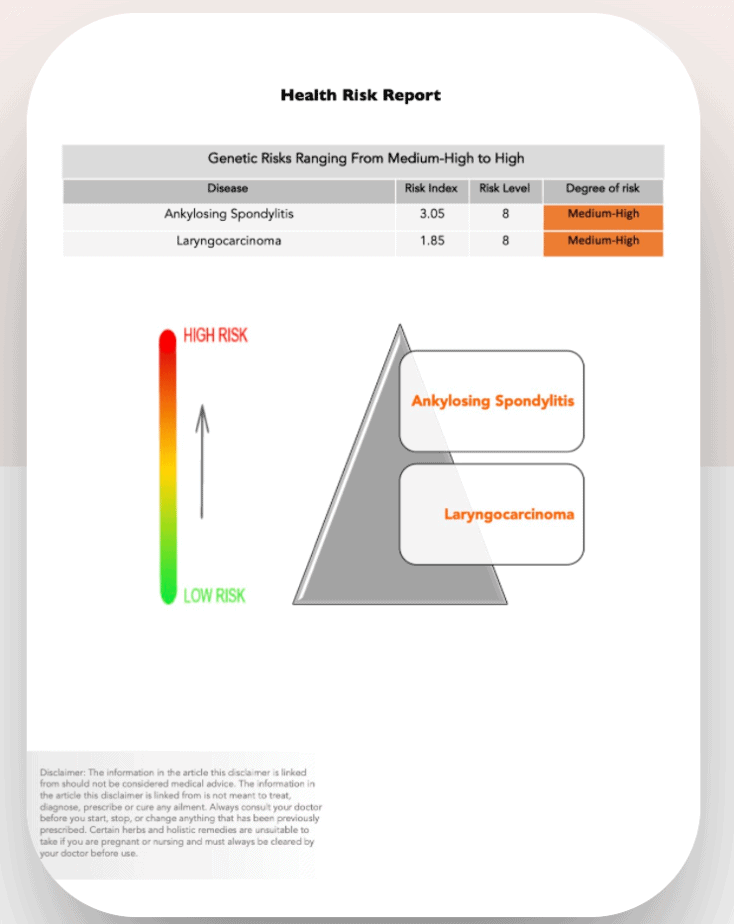 Together with health history, this product can help customers and their doctors manage diseases the patient may be at high risk for.
Review of Map My Gene Privacy
Map My Gene holds users' DNA details with high confidentiality. The company will only ask and collect your information when you register and place an order through the consent and indemnity form. They only process and provide personal information shared by customers.
They claim that test results will not be willfully shared with third parties. Samples will only be identified by a sample serial number and access to client details is only made available to select employees who need that information to perform their job.
Nebula Genomics
Map My Gene offers two genetic tests focused on innate talents as well as susceptibility to diseases. The Inborn Talent Gene Test provides information about kids that inform parents on their intellectual strength and most adaptable career choice. On the other hand, the Disease Susceptibility Gene Test provides information for up to 100 diseases.
However, these tests remain limited in regards to certain aspects of DNA tests. For example, the company does not provide ancestry reporting, one of the popular forms of genetic reporting.
Nebula Genomics offers a comprehensive genomic test that highlights predispositions related to diet, fitness, and metabolism. With 30x Whole-Genome Sequencing, Nebula sequences 100% of your DNA to get to the root cause of every biological inclination. The reports are updated as more scientific research becomes available. Therefore, you are not just limited to the provided disease recognition.
Nebula Genomics test is highly accurate and offers other added services that include ancestry reporting and genome exploration tools. This ensures that you have complete control over note just your innate traits or certain diseases, but every aspect of your DNA.
Nebula offers genetic tests for as low as $99 and no more than $299.
Map My Gene vs. Nebula Genomics
| | | |
| --- | --- | --- |
| | Map My Gene | Nebula Genomics |
| Testing method | Microarray | 30x whole genome sequencing |
| Reports | Tests for 100 disease vulnerability genes and 46 talent traits, focused on children | An extended genetic report that is updated regularly |
| Ancestry reporting | No | Performs deep ancestry reporting with the complete Y chromosome and mtDNA sequencing |
| Counseling | Yes | No, but data is of the highest quality and can be used by physicians and genetic counselors |
| Cost | $499-$1999 | $0, $99, $299 |
Did you like our Map My Gene review? You can read more reviews on our blog and check out our complete guide to the best DNA test kit and other home tests.
Other companies
Map My Gene is a unique company that focuses on innate talents in children and career directory. The company's other test looks at disease risk for 100 conditions. Other companies that offer options for disease predispositions are:
You may also be interested in virtual health care such as that offered by Teladoc and Lemonaid Health!