7 Facts from our SelfDecode Review
Location: United Kingdom
Products: genetic testing and DNA data upload
Reports: disease risks and traits; regular updates; tools to explore DNA data
Raw data access: yes
Privacy: provides a detailed list of utilized security technologies
Cost: $59-$289; requires an annual subscription; no free options
Alternatives: Nebula Genomics (free options available)
SelfDecode Introduction
This is a review of SelfDecode (Self Decode), a personalized DNA testing and digital health company founded in 2016 by biohacker Joe Cohen. Cohen also started SelfHacked, an online library of blogs on genetic and health research, and Lab Test Analyzer, a site that provides a list of optimal ranges and recommendations based on your genes.
Cohen describes SelfDecode as a service for people who want to understand how genes affect their health and ways to optimize it. To help you do this, SelfDecode aims to provide science-based reports explaining medical conditions associated with genetic variation in different genes. The company explains how your genes affect your health and SelfDecode also offers tools to explore your genome and a blog connecting your DNA to genetic research.
SelfDecode Products
If interested in ways to improve health, they have options for customers who are new to genetic testing and those who already have raw genetic data from most DNA analysis websites. DNA files from DNA kits from 23andMe, Ancestry, and others are supported.
For people who already have compatible DNA data, SelfDecode costs $59 per year or $199 for unlimited access. For those who don't have raw DNA data, the SelfDecode DNA testing kit starts at $90. The lifetime membership includes lifetime access to current and future DNA wellness reports, and access to the SelfDecode personalized genetics blog.
The main features are the DNA wellness reports, and the Personalized Genetics Blog, which has articles on scientific research and recommendations on how to optimize your health.
Review of SelfDecode DNA Wellness Reports
SelfDecode reports analyze your DNA for health issues associated with specific conditions, explain the function of different genes, and offer personalized diet, supplement, and lifestyle recommendations based on your genotype.
To start, all users receive the basic personalized health report. It looks at genes associated with nutrition, fitness, and cognition/personality. Users also have access to three free reports a year, with the option to purchase more. Depending on your health goals, you can choose from the following:
Inflammation (Did you know you can test inflammation markers at home? Learn more in our article about at home inflammation tests).
Cardiovascular
Sleep
Vitamins
Minerals
Mood
ApoE (a protein involved in metabolizing fats)
Fitness
Cognitive function
MTHFR gene (encodes proteins to process the vitamin folate)
Longevity
The reports start with a summary of traits associated with different genes and gene based health information, including predisposed health risk to certain health conditions. For example, this Mood Report for founder Joe Cohen emphasizes Joe's higher genetic risk for depressed and anxious moods.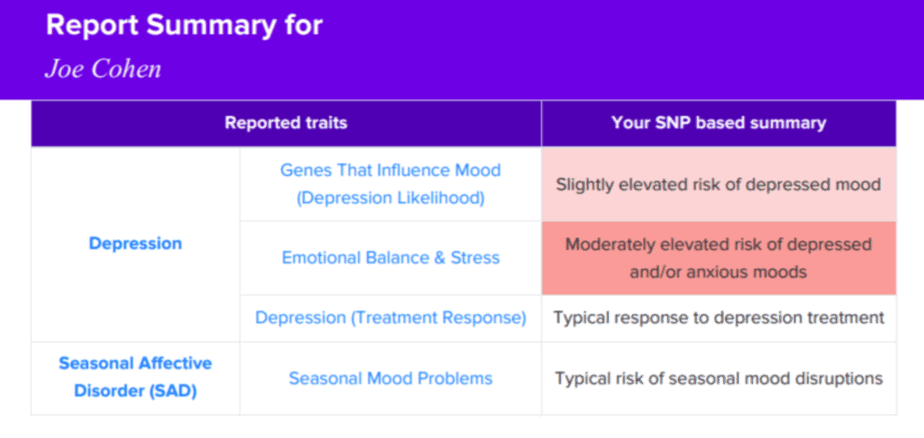 After the summary, the report breaks down detailed information as to which SNP (single nucleotide polymorphism, also referred to as "variant") you have and the associated risk:
The report provides a detailed explanation of each SNP and your personal genotype. For instance, the SNP rs1800497 is part of the DRD2 gene which encodes a dopamine receptor. Joe's genotype, AG, means he is likely to have fewer DRD2 receptors and therefore is at risk of negative moods.

The reports are meant to be for informational and educational purposes only. SelfDecode does not treat, diagnose or cure conditions. However, they do give advice on how to counterbalance the negative impacts of some genetic variants. For example, Joe's Mood reports suggest that regular exercises can boost his DRD2 dopamine receptors levels.
Review of SelfDecode Personalized Genetics Blog
The company provides personalized health recommendations based on genetics. Anyone can access the blog and read the articles, but for SelfDecode customers, each article comes with a personalized score based on their DNA. To make the lab test results easy to understand they are classified as "good", "neutral" or "bad" depending on how your genotype influences the risk of disease or trait (e.g. brain fog). This provides personalized insight into how your health might be impacted by the findings discussed in the article. However, SelfDecode states that it does not provide medical advice, and the reports are for informational purposes only.
There are multiple blogs published every month on topics like inflammation, respiratory infections, blood sugar, or susceptibility to COVID-19. You can filter posts by category, i.e. brain or inflammation, or use the search function to look for articles on a specific gene or condition. This allows you to easily find articles related to topics relevant to your health.
The posts all follow a similar format. The name of the gene being discussed is included in the title, and then the post starts with an explanation of what the gene does.
For example, Figure 4 shows a blog post that breaks down the genetics of lactose intolerance.

The article starts by explaining the condition and then discusses the basic biology and genetics of how lactose intolerance occurs in the body (Figure 5).
Then, the genes that play a role in the condition are explained. In this case, the article focuses on the MCM6 and LCT genes (Figure 6).
The post then breaks down the variants that can affect how these genes work (Figure 7).
Finally, the user is given his genotypes for the analyzed variants along with their impact on disease risk (Figure 8).

Each post is well-cited, with links to published studies. In most articles, however, the studies are from the last few years rather than the last few months. While there are exceptions, like this article on ACE2 and COVID-19, most of the blog posts are a summary of information, not articles on cutting-edge research.
In the future, the company plans to use more advanced tool like machine learning to create its reports.
Review of other SelfDecode Tools
Your genetic information is organized into health categories and lists of genes, called "gene packs," to help you easily see which gene variants might be impacting your health the most (Figure 9).

There are lists of so-called "bad genes" that are associated with negative conditions. For instance, you might find you have a variant in the ADAM33 gene that is associated with asthma. There are also lists of what SelfDecode considers rare and important SNPs in your genome.
For instance, under the "Aging" topic and the "Eyesight" category, if you may have certain alleles for the SNP rs6726395. Those alleles might put you at an increased risk for age-related macular degeneration. That is, you might be at risk of losing your eyesight as you get older.
SelfDecode also offers tools for searching your genome. These include the symptoms and conditions analyzer in which you can search for genetic variants by condition, like asthma, or by substance, like coffee or ibuprofen. SelfDecode tools like the substance explorer then show you the genes and variants in your genome that are related to your searches.
Other tools that SelfDecode offers include a symptoms analyzer.

Review of SelfDecode Privacy
SelfDecode promises to never sell your data or share customer data with third parties without explicit consent unless required by law. If the company receives a court order or search warrant for your genetic information, SelfDecode says it will notify you, if possible.
For users concerned about privacy, SelfDecode suggests using a pseudonym. Otherwise, the company collects as little identifying information as possible.
To further protect your information, SelfDecode says only "vetted and trusted" employees have access to the backend of the site. Additionally, only one person has access to the text files of data.
Other security measures used by the company include:
Secure SSL Certified Connections
Script Protection
Disk Write Protections
Plugin Access Restriction
External Security Penetration Testing
Annual SAS 70 Type II Examinations
Encryption of All Backup Media
Maintain Audit Logs
SelfDecode in the News
SelfDecode hasn't made much headway in the mainstream news in the four years since it was founded. Joe Cohen, the founder, is mentioned in Scientific American and featured on the podcast Evergreen Profits. Notably, Cohen made headlines in 2017 when he offered a $10,000 reward for anyone who found him a girlfriend. Two years later, he appeared on Good Morning Britain with his girlfriend to discuss how SelfDecode helped her learn to treat her mood issues.

SelfDecode Reviews
Is SelfDecode worth it? SelfDecode reviews are featured on the SelfDecode website, but there aren't many available on other review websites. There are mentions on Reddit and a few SelfDecode reviews on DNAtestingchoice.com.
Pros and Cons
| | |
| --- | --- |
| Pros | Cons |
| Tools for exploring your DNA | No ancestry or genealogy tools |
| Variety of reports available with recommendations based on your genetics | No reviews on third-party sites |
| Can import DNA data or buy a genetic test | Additional reports cost more |
| Blog with articles on research | |
Nebula Genomics
In this final part of our SelfDecode review, we will compare SelfDecode to Nebula Genomics and other DNA testing companies. Nebula Genomics distinguishes itself from SelfDecode and other DNA testing websites through our focus on privacy, our research library, and our DNA sequencing-based test.
Privacy
At Nebula Genomics, we are privacy-focused. We are developing cryptographic technologies to enable secure genetic testing and DNA data analysis. We also enable our users to share their DNA data with researchers without risking their privacy.
Nebula Research Library
Our understanding of human genetics is advancing every day. With the Nebula Research Library, you can find articles explaining the newest research and studies. This provides insights into the most current information about your genetics.
Free DNA reports
We offer our users free expanded DNA reports. When you upload raw DNA data from 23andMe or AncestryDNA to Nebula Genomics, we use a process called imputation to fill in the gaps in your genetic data. The result is a report on hundreds of genetic traits.
Whole Genome Sequencing
For even more information about your genome, our new 30x Whole-Genome Sequencing decodes your entire genome. That is 10,000 times more information than other testing companies like SelfDecode provide.
Here is a comparison of SelfDecode vs Nebula Genomics and other popular DNA testing companies:

| | | | | |
| --- | --- | --- | --- | --- |
| | SelfDecode | 23andMe | AncestryDNA | Nebula Genomics |
| Focused on privacy | No | No | No | Yes (learn more) |
| Free DNA data upload | No | No | No | Yes. Imputation generates an expanded report |
| Updates based on new research | No | No | No | Yes, weekly updates (learn more) |
| Tools to explore data | Yes | Limited | Limited | Yes (learn more) |
| Ancestry reporting | No | Yes | Yes | Deep ancestry reporting with full Y chromosome and mtDNA sequencing in collaboration with FTDNA |
| Cost | $59-$289 | $99, $199, or $499 | $99 or $149 | $0 – $299 |
SelfDecode vs 23andMe vs AncestrDNA vs Nebula Genomics
If you are interested in tools to explore your genetic data, you should also take a look at Genetic Genie. Unlike SelfDecode, Genetic Genie (free) is completely free. Another option to consider is Promethease ($12).
If you are interested in genetic testing that will help you achieve your health and fitness goals, there are a lot of products to choose from. You can learn more about your options on our website including:
There are a lot of great supplement companies out there that may help you lose weight and get healthy (you can read about many of them on our blog!) But be careful! There are also dangerous experimental drugs out there like SR9009 and RAD 140 that are not approved for human consumption.
Did you like our SelfDecode review? You can find more reviews on our blog and check out our complete guide to the best DNA test kit and other home tests!